Figure 1. The extent to which ocean energy could potentially supplement the existing electricity supply varies across different regions.
How does it work? Ocean energy resources can be harnessed using a variety of devices, depending on the type of energy they harness, the amount of power they need to supply, and other factors. Devices that capture the energy of moving water vary in design and scale, depending on whether they are made to harness waves, tides, or ocean currents.
Wave energy converters use surface waves to generate power. For example, one type of wave energy converter generates power by using wave motion as a piston to drive air in and out of a chamber, with the moving air driving a turbine. Tidal energy converters use the horizontal movement of tidal currents to generate power, typically through submerged turbines whose propellers are spun by the current, analogous to wind turbines. Devices that capture energy from non-tidal ocean currents, such as the Gulf Stream, also use currents to spin a turbine and generate energy. Some technologies, such as tidal kites, can harness both higher velocity tidal currents and lower velocity offshore currents through a special "kite" tethered underwater. The kite uses control flaps to move in a fixed pattern across the current, increasing the speed of water flow across the turbine blades in the kite, thereby extracting more energy.
Ocean thermal energy converter (OTEC) power plants convert the thermal differences between warm surface seawater and cold deep seawater into power and are intended to be deployed as large-scale power plants. OTEC plants use this temperature difference to produce electricity. Specifically, warm surface water is pumped through an evaporator which evaporates a working fluid (which can be the surface water itself). The resulting vapor expands and drives a turbine generator, producing electricity. The vapor is then condensed back into a fluid using cold water pumped from deep in the ocean.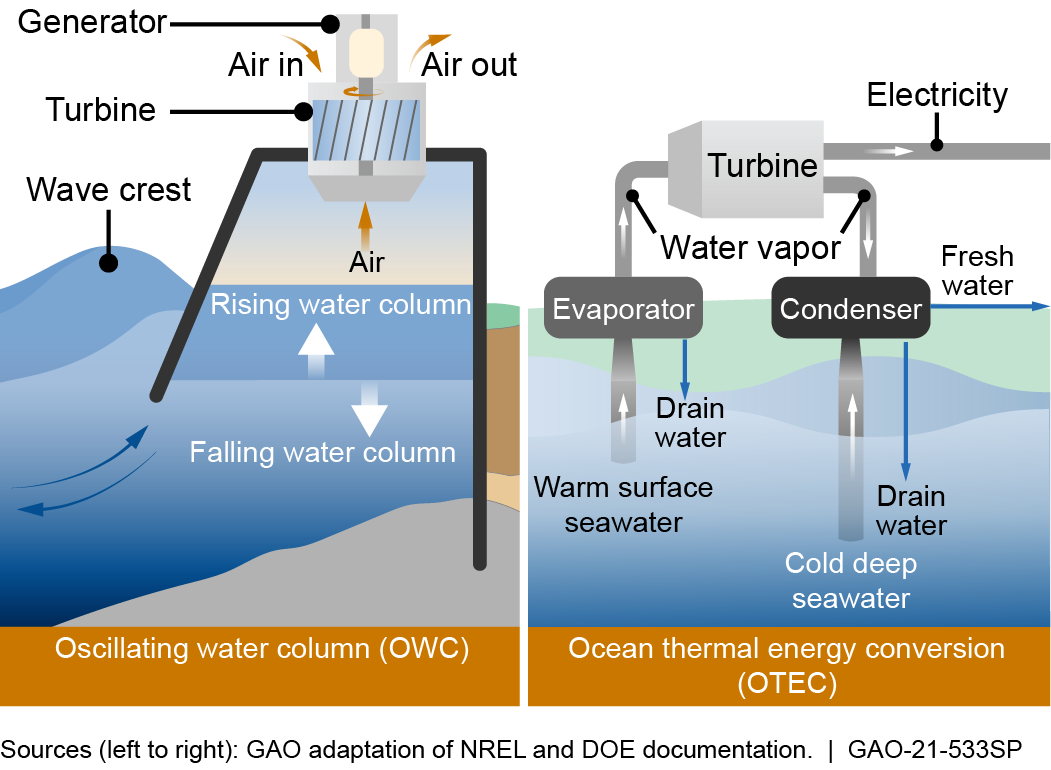 Figure 2. Example of an oscillating water column, which is a type of wave energy converter, and an OTEC power plant.
How mature is it? Wave and tidal energy converters are in the early stages of commercialization. While tidal energy converters have begun to converge toward a single design, wave energy converters have not. This is in part because wave energy converter developers have started to focus on smaller, purpose-designed devices for niche energy markets.
OTEC and ocean current technologies are currently small scale and have had only limited deployments. One of three active OTEC power plants in the world is located in Hawaii; but the stakeholders developing this technology are mainly research institutes and universities rather than industry because of the uncertainty on the return on investment for this technology. Tidal kites could harness ocean current energy. However developers are planning limited commercial deployments to capture energy from tidal currents rather than ocean currents, in part, because ocean currents are further offshore, which complicates deployment.