But after a series of meetings, the suspicions disappeared and the rural hospitals eagerly signed on.
The Tucson hospital was frank about its motivation: to remain independent in an industry moving toward consolidation. As a result of acquisitions in the last few years, it is the last locally owned, independent hospital in Tucson.
"All of a sudden, we were in a situation where [Tucson Medical Center] found itself isolated and facing its own competitive market pressures because the environment had so dramatically changed," said Susan Willis, executive director of market development at the hospital and president of the new alliance.
Nearly a quarter of Tucson's patients come from outside the city, many from the areas served by the rural hospitals in the new alliance. Cementing the relationship with those hospitals, Willis said, will help Tucson maintain a flow of patients who need medical services that are beyond the capabilities of the rural hospitals. The rural members have laboratories, diagnostic equipment and therapeutic services, but some have little or no surgical or obstetrical services. Not one is equipped to perform complicated surgeries.
"Certainly you could describe it as a defensive strategy," Willis said.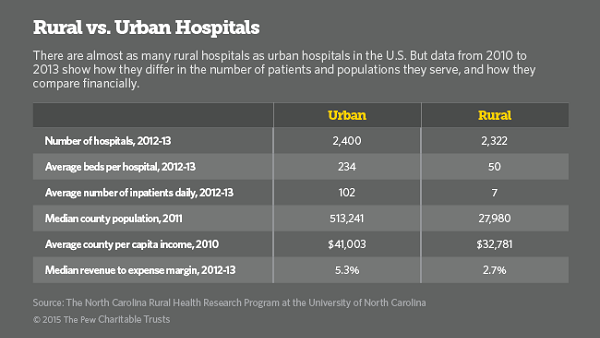 Many of the problems plaguing rural hospitals date to 1983, when Medicare began paying hospitals a set fee for medical services and procedures rather than reimbursing them for the actual costs of providing that care. From 1983 to 1998, 440 rural hospitals closed in the US, according to the NRHA. That prompted Medicare to begin reimbursing certain rural hospitals for their actual costs, which helped stabilize them.
But the recession hit rural hospitals especially hard, as did 2011 budget cuts that reduced Medicare payments by 2 percent. Because the rural population tends to be older, rural hospitals rely heavily on Medicare payments. The pressure increased in 2012, when the federal government reduced by 30 to 35 percent its reimbursements to hospitals for Medicare patients who don't cover their share of the bill.
"That's an example of how a little policy change that seems insignificant in Washington can have profound effects in the rural areas," said Brock Slabach, NHRA's senior vice president for member services.
Finally, more insurance plans are increasing copayments and other out-of-pocket costs. Many of the patients at rural hospitals have low incomes. And when they can't cover their costs, the hospitals have to pick up the tab. "We don't have cash reserves," said Polheber, the Benson Hospital CEO. "We live on the edge, day to day, week to week. [The alliance] seemed like the best way to keep us going."
Given the threats to the nation's rural hospitals, many are eager to learn from any models that work, which is why the Arizona alliance has attracted notice.
Slabach, for one, calls it a promising model, although one that may not be replicable everywhere. "You have to have willing partners willing to collaborate and provide assistance to each other," he said. "You need partners that share a cultural fit with you."
The rural members of the alliance are major employers in their communities and assets in attracting other employers and residents, including the snowbirds, who flock to the area every winter. But hospital leaders, workers and patients say saving lives is the main reason the hospitals must remain open.
"In medicine, distance lessens the chances of survival," said Pam Noland, director of nursing at Northern Cochise. "Even if a patient has to be transferred to [Tucson Medical Center] or somewhere else, stabilizing them here is the difference between life and death."
The Pew Charitable Trusts is driven by the power of knowledge to solve today's most challenging problems. Pew applies a rigorous, analytical approach to improve public policy, inform the public and invigorate civic life.