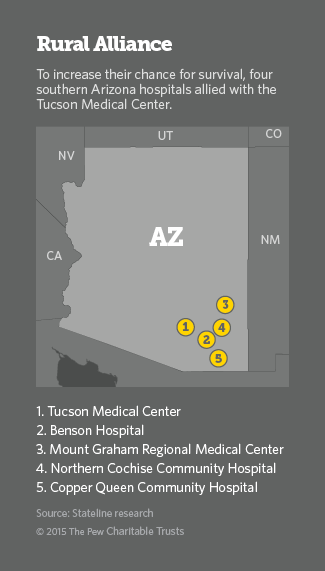 The alliance offers the rural members multiple advantages. One of the most important is in purchasing. Their combined size will enable them to get discounts that are beyond them now. For example, instead of being a lone, 49-bed hospital with limited bargaining leverage, alliance member Mount Graham Regional Medical Center, in Safford, is suddenly part of a purchasing entity with more than 700 beds.
"If I'm just Mount Graham and I'm going to buy one MRI every seven years, the sales people will say, 'Oh, that's very nice,' " said Keith Bryce, Mount Graham's chief financial officer. "But as part of this alliance that they want to do regular business with, they are going to give us a much better price."
Bryce said that he expects the added purchasing power alone will save Mount Graham "in the six figures" every year.
Similarly, the hospitals expect the combined size of the alliance to result in lower costs for employee benefits, workers' compensation and medical malpractice insurance.
The alliance also helps the rural hospitals recruit doctors and other medical providers, many of whom are reluctant to work, let alone live, in isolated areas. Rural hospitals rarely have the contacts and relationships that help urban hospitals find doctors. "We've been trying to recruit another primary care doctor to this community for the last year with no success," said Rich Polheber, CEO of Benson Hospital, another alliance member.
Tucson Medical Center has pledged to use its own recruiting muscle to help its rural partners find providers who are willing to live in rural areas, or at least regularly see patients there. As an incentive, Tucson will offer interested doctors help in managing the business aspects of their practices.
The rural alliance members also want Tucson's help with medical training and IT. Some have dipped into telemedicine, which is particularly valuable for rural hospitals underserved by specialists, and are looking to expand those efforts. Copper Queen Community Hospital, in Bisbee, the fourth rural member of the alliance and probably the rural hospital in the best financial shape, is the most advanced user of telemedicine. Its networks in cardiology, neurology, pulmonology and radiology can connect doctors and their patients to specialists at major institutions such as the Mayo Clinic and St. Luke's Medical Center, in Phoenix.
The alliance also will make it easier for patients who have surgery in Tucson to be transferred back to their home hospitals for recovery and rehabilitation, saving them and their families from traveling long distances.
Despite the numerous advantages for the rural partners, the idea for the alliance began with the Tucson hospital, which approached the others with the proposal last spring. At the outset, some of the rural hospitals were skeptical.
At first, we were like, 'OK, so why are they doing this? What's in it for them? Do they want to absorb us?' " said Bryce, the Mount Graham CFO.