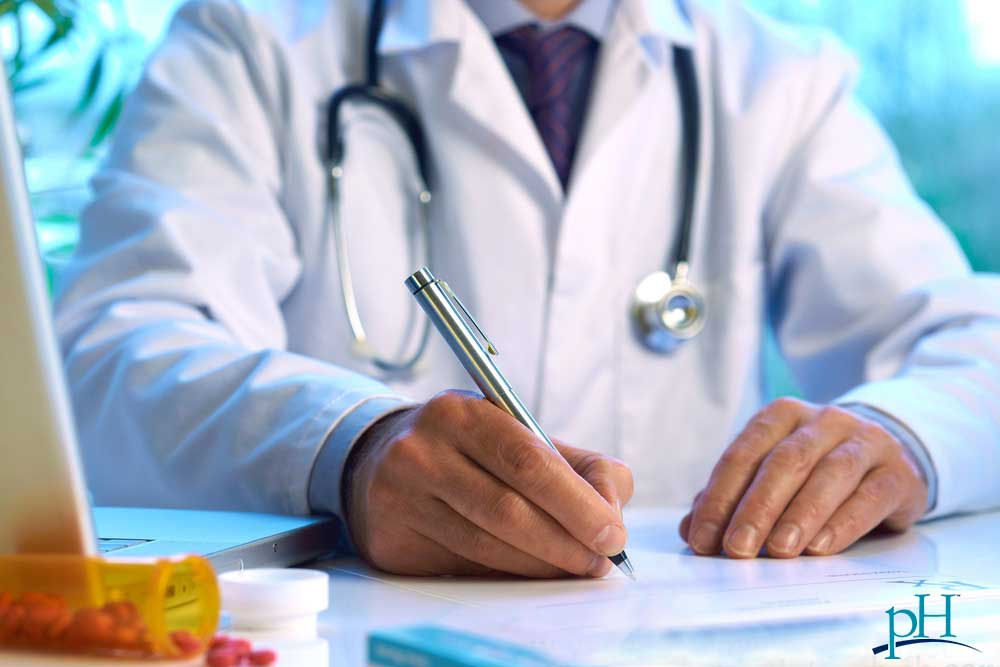 Despite these objections from some in the medical profession, more states are imposing the requirements. "Comprehensive mandates are the single most effective thing states have done to curb opioid prescribing, and it seems to have an almost instantaneous effect," said John Eadie, who has evaluated state programs at Brandeis University's Prescription Drug Monitoring Program Center of Excellence in Massachusetts.**
Photo credit: Life Mental Health. Used with permission under Creative Commons license
In states where physicians are required to use monitoring systems, overall opioid prescribing has plummeted, as have drug-related hospitalizations and overdose deaths, Eadie said. States also are seeing a rise in addiction treatment as more doctors refer patients to treatment after discovering they are taking painkillers from multiple sources and are likely addicted to them.
In Kentucky, hydrocodone (Vicodin) prescribing dropped 13 percent, oxycodone (Percocet) dropped 12 percent, oxymorphone (Opana) dropped 36 percent and tramadol (Ultram) dropped 12 percent between 2012 and 2013, the first year the law was implemented, according to an analysis by the University of Kentucky's College of Pharmacy.
Since the law was passed, overdose hospitalizations declined 26 percent, and prescription opioid deaths dropped 25 percent, the first reduction in nearly a decade, according to a March 2016 report by Shatterproof, a national advocacy organization that promotes prevention and treatment of drug addiction.
In another effort to stem overprescribing of opioid painkillers, which is widely blamed for the current epidemic, the CDC in March took the unprecedented step of issuing national opioid prescribing guidelines. Along with patient education, urine drug testing, and abuse-deterrent formulations of pain pills, the federal agency recommended prescribers check prescription databases before prescribing to reduce the risk of opioid overdose and addiction.
Vastly Underused
Prescription drug monitoring systems have existed in paper form since the 1930s, and every state except Missouri has some type of system. But the rules governing who has access, how quickly pharmacies must enter dispensing data, and which medications are included vary widely from state to state. 
(The creation of a prescription drug monitoring system in Missouri has been blocked by a small group of legislators, led by state Sen. Rob Schaaf, a Republican and a doctor, who argue that allowing the government to keep prescription records violates patient privacy rights. In March, the opioid-plagued county of St. Louis adopted an ordinance to create a monitoring system, and advocates and some lawmakers continue to press for a statewide program.)
In general, state databases have been used effectively by law enforcement to track down so-called pill mills, where doctors indiscriminately prescribe opioid medications for cash. And a substantial number of pharmacists have consulted them before filling a prescription. But a relatively small percentage of medical professionals are signing on to the systems to detect patients who are at risk for addiction or overdose.
In most states, health care professionals who prescribe at least one controlled medication are encouraged to use PDMPs, but only on a voluntary basis. As a result, the typical state program in 2012 had only 35 percent of doctors signed up for access, according to the center at Brandeis. In 2014, 53 percent of doctors were signed up to one of the programs, according to a survey by Lainie Rutkow, an associate professor of public health at Johns Hopkins.
Most states require prescribers to obtain access to PDMPs and use them at their discretion when they suspect a patient is at high risk for addiction, drug diversion or overdose, according to the National Alliance for Model State Drug Laws.
The problem with that, said Van Ingram, Kentucky's director of drug control policy, is "people think doctors can just look at a patient and recognize this disease of addiction, and it's not that simple."
"People with addictions can fool their spouses, their children and their employers. They can definitely conceal the disease from their physician in a 15-minute visit."