"All the public libraries, all the public buildings, all the coffee shops — we're probably down thousands of restrooms," said Alison Eisinger, executive director of the Seattle/King County Coalition on Homelessness. "There's no way to make up for that with handwashing stations and a few port-a-potties."
Eisinger's group has asked throughout the pandemic for Seattle to reopen all public buildings for restroom use. Sabrina Register, spokesperson for Seattle Public Utilities, did not answer emailed questions about reopening public buildings, or whether the city feels its restroom supply is adequate.
She did note that Seattle has erected nearly 100 new shelter spaces in tiny house villages, but added that "the need outweighs our available resources" during the pandemic.
"It's a class issue, it's a race issue, it's a gender issue. Middle-class white people who normally have greater access to toilets in public spaces are all of a sudden being denied access. Now they're woke to it."

Taunya Lovell Banks

, 

professor

 

UNIVERSITY OF MARYLAND SCHOOL OF LAW
According to Eisinger, some homeless people in the city have resorted to wearing adult diapers or using 5-gallon buckets filled with kitty litter. She pointed to the city's recent hepatitis A outbreak — as well as the fact that COVID-19 can live in feces — as evidence that the city's restroom shortage is a public health failure. 
"This is a government responsibility, an obligation to the public to protect people's health and safety," she said. "This is a rich city in a rich county, and we still haven't made available to people regular, dignified simple basics. It is better to meet folks' needs on a regular basis than to wait until there is a public health crisis."
No Relief
The public restroom crisis is not limited to Seattle, nor did it begin during the pandemic. Those who study the issue say American cities have spent decades divesting from such facilities, leaving private businesses such as Starbucks and McDonald's to pick up the slack. 
"The government has basically given up on installing public toilets," said Steven Soifer, a social work professor at the University of Mississippi who leads the American Restroom Association, which advocates for better public infrastructure. "It took something like the coronavirus to bring it out in the open."
Private companies might require guests to buy something before using the restroom, advocates note, creating a barrier for homeless or otherwise marginalized people. In places where public urination laws are enforced, those who can't pay may face repercussions.
"You're criminalizing having a bladder," said Taunya Lovell Banks, a professor at the University of Maryland School of Law who recently authored a law review article about the lack of public toilets. "If you're caught by the police and ticketed, you have to register as a sex offender. It's beyond the pale."
Banks noted that businesses may be less likely to allow homeless people to use their facilities, and people of color also are less assured of gaining access. For female-bodied people, urinating discreetly in the absence of restrooms is not always possible. 
"It's a class issue, it's a race issue, it's a gender issue," she said. "[During the pandemic,] middle-class white people who normally have greater access to toilets in public spaces are all of a sudden being denied access. Now they're woke to it."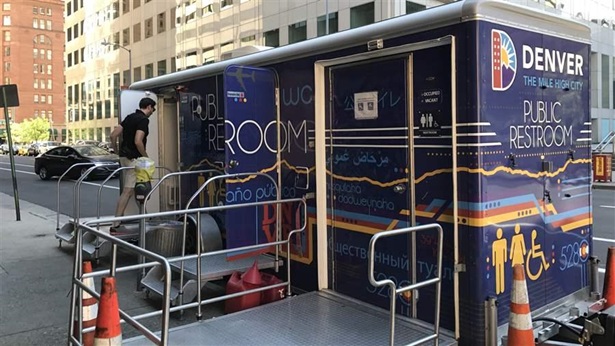 rides">