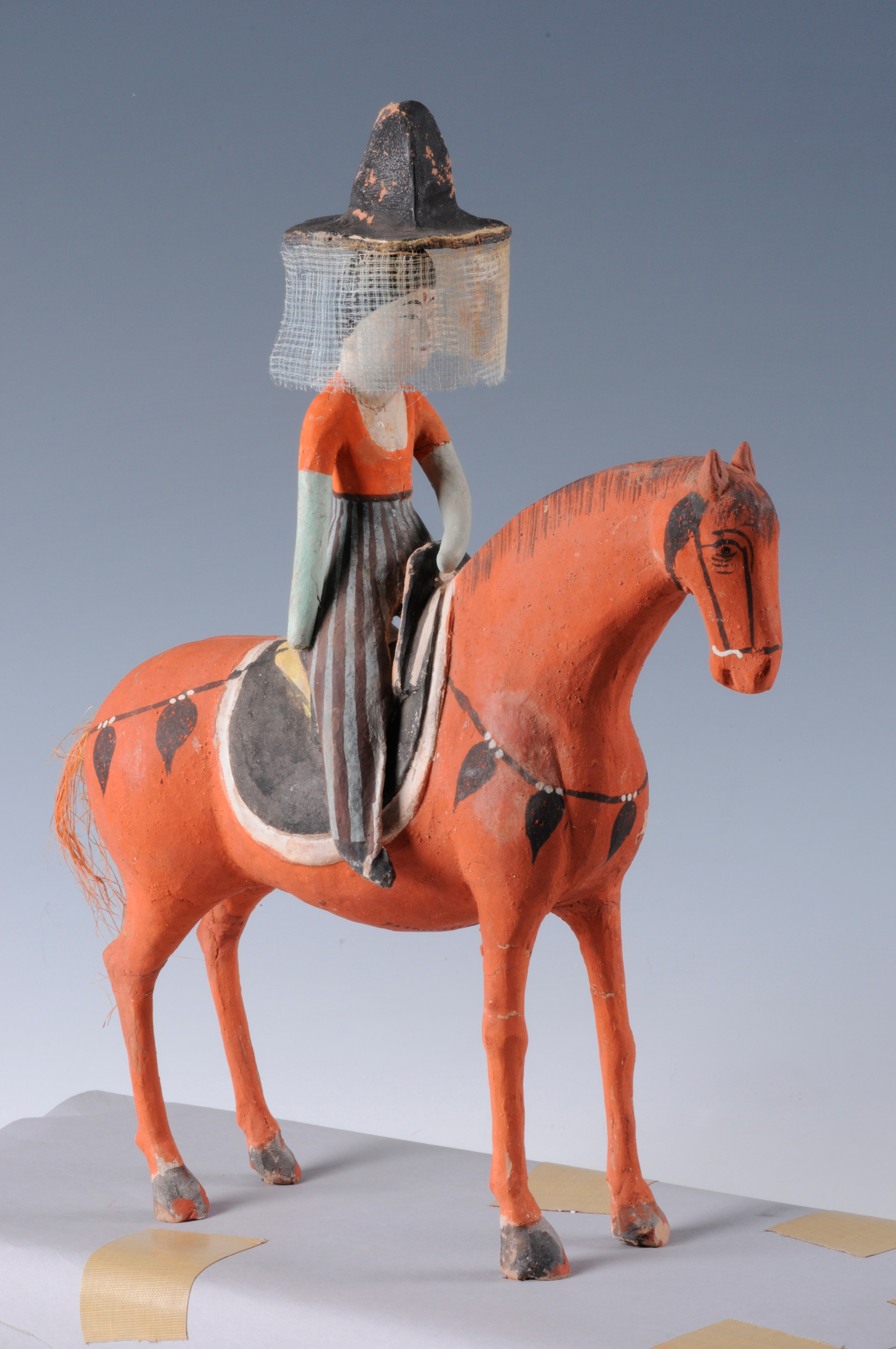 Secrets of the Silk Road includes two mummies and the full burial trappings of a third, representative of three different periods of time: the much celebrated, six foot six inch "Yingpan Man," ca 3rd-4th century AD, with his gold-foil and white mask and opulent robes (the mummified remains of his body were too fragile to travel); an infant, ca 8th century BC, wrapped in a still vibrant blue bonnet and burgundy woolen shroud similar to that found in northern Europe; and the spectacular, just recently discovered, 3,800-year-old "Beauty of Xiaohe," whose state of preservation and attractiveness are startling.
Upon first encountering these mummies, Dr. Mair and other scientists realized the potentially enormous implications of these astonishingly well-preserved human remains for migration and interactions at this central meeting point of Europe and Asia so long ago. The material buried with these men, women and children, as well as their perfectly preserved clothing, bears a striking resemblance to mummies found in Siberia to the North, and Persia and Europe to the West. Even more surprising is that these mummies span a period of more than 3,000 years, providing a glimpse into the lives and culture of the ancient Silk Road traders, who are, based on new DNA research, an intriguing mix of people from all over Eurasia.
In addition to the mummies, the exhibition features more than 100 objects that offer insight into the long and diverse cultural heritage of Central Asia — a crossroads of the Silk Road.  These include an array of well-preserved clothing, textiles, wooden and bone implements, coins and documents. Along with gem-encrusted gold vessels, masks, jewelry, accessories and other objects, and even preserved foods, such as wonton and flower-shaped desserts, the collection reflects the wide extent of the Silk Road trade, with strong Mediterranean influences as well as goods from ancient China.
The discovery of these ancient people along the Silk Road has helped scholars better understand the settlement of ancient Central Asia and has opened up a window to understanding the very early exchange of important technologies, life-improving inventions, and ideas and customs — including what may be the world's first sunglasses—being practiced in the inhospitable lands of the Tarim Basin where East meets West. The advanced metallurgy and textile traditions of these mystery mummies are of particular note, according to archaeologists.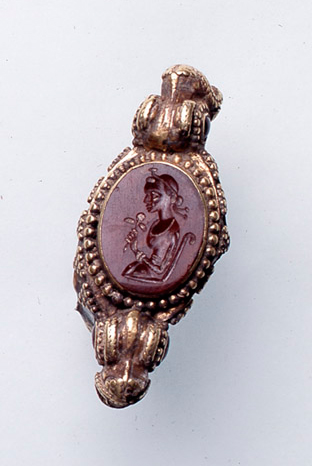 The Silk Road, which scholars date from China's Han Dynasty in the late second century BC to about AD 1400, was aptly named because of the vast amounts of silk and other merchandise — spices, gold, precious metals and stones, ivory, glass, exotic animals, furs, ceramics, jade, lacquer, iron and plants — that were carried back and forth between East and West.  Many goods were bartered for others along the route, and objects often changed hands several times.  Artifacts in the exhibition both span the 1,500-year period of the famous route, and, in the case of early mummy burial goods, pre-date the historical Silk Road.
The exhibition is accompanied by a full-color catalog authored by a team responsible for much of what is known outside of China about these mummies and their culture, including Dr. Mair; Spencer Wells, director, National Geographic Society's Genographic Project; Dr. Elizabeth Barber, noted expert on ancient textiles, Occidental College; and Lothar von Falkenhausen, professor, art history and archaeology, UCLA.
Images: "The Beauty of Xiaohe," female mummy, ca 1800-1500 BCE. Excavated from Xiaohe (Little River) Cemetery 5, Charqilik (Ruoqiang) County, © Xinjiang Uygur Autonomous Region, China. © Wang Da-Gang.
Painted clay figure of an equestrienne, ca 7th-9th century AD. Excavated from Tomb No.187, Astana Turfan, Xinjiang Uygur Autonomous Region, China. © Xinjiang Uygur Autonomous Region Museum
Gold ring, ca 2nd century BC-4th century AD. Excavated from Jarintay, Nilqa County, Xinjiang Uygur Autonomous Region, China. © Xinjiang Institute of Archaeology
Pages: 1 · 2