Public Lands From Which to View the Eclipse: Yaquina Head,Great Smoky Mountains, Grand Teton,Homestead, Clarks River Wildlife Refuge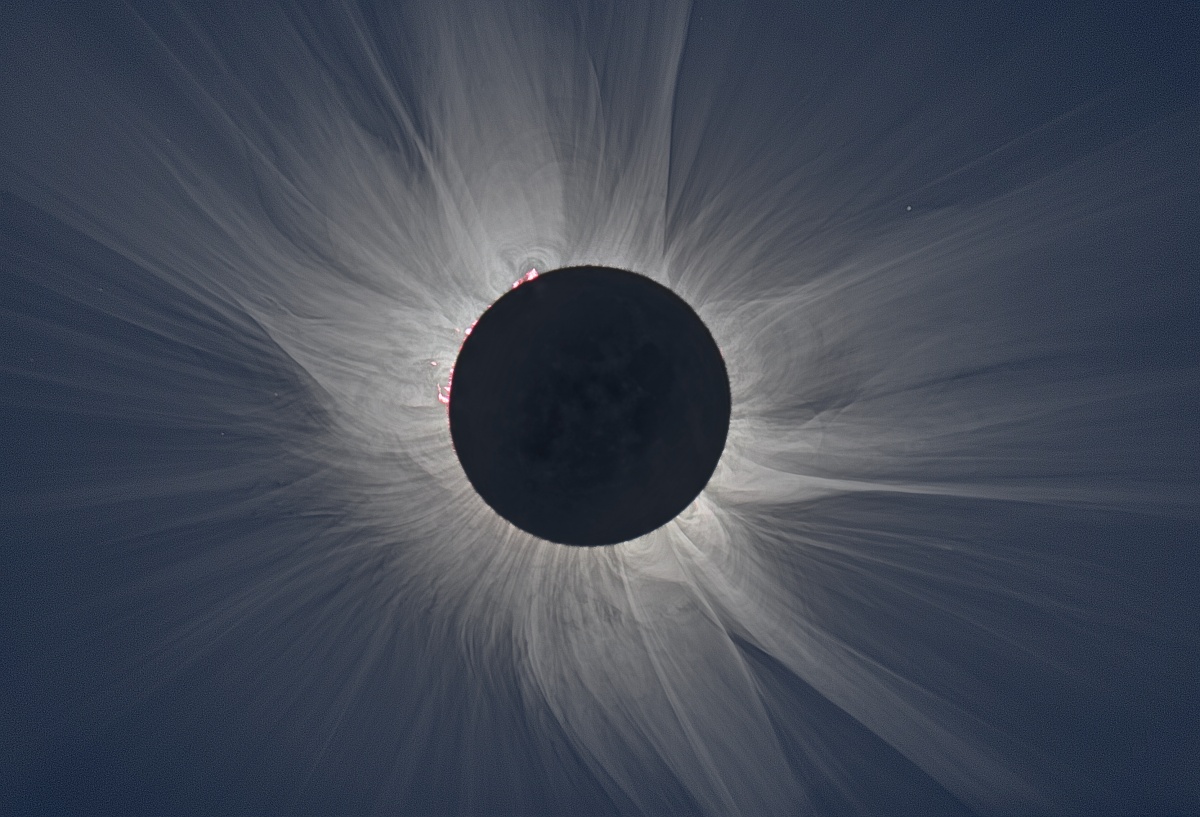 A total solar eclipse. Photo by M. Druckmüller, NASA.
On Monday, August 21, 2017, millions of people across the US will get to see one of nature's most awe-inspiring sights — a total solar eclipse. 
With wide-open spaces and low light pollution, public lands are the perfect place for viewing this rare event, and we're sharing advice for safely witnessing this awesome moment. 
What is a solar eclipse?
The path of the total solar eclipse on August 21, 2017. Photo by NASA
A solar eclipse happens when the moon passes between the sun and earth, blocking all or part of the sun. For thousands of years, people have observed this phenomena, and this year many in the U.S. will get that chance! The last time the contiguous U.S. saw a total eclipse was in 1979, and the next total eclipse over the U.S. won't be visible until April 8, 2024.
From beginning to end, the solar eclipse will last up to 3 hours, but the total eclipse (when the moon completely blocks the sun) will be visible from each location for much shorter. For those lucky people in the path of totality, which spans about 70 miles in width and crosses portions of 14 states from Oregon to North Carolina, they'll get to watch as day turns into night when the moon blocks the sun for up to 2 minutes and 40 seconds. Everyone else will see a partial solar eclipse.
During the partial eclipse, the sun's rays will cause eye damage and should only be viewed through a solar filter or special eclipse viewing glasses. These can be purchased from numerous sources for as little as $2. Homemade filters or ordinary sunglasses (even very dark ones) are not enough to protect your eyes. 
Learn more about the specific times the solar eclipse will be visible at your location.
Tips for where to watch the total solar eclipse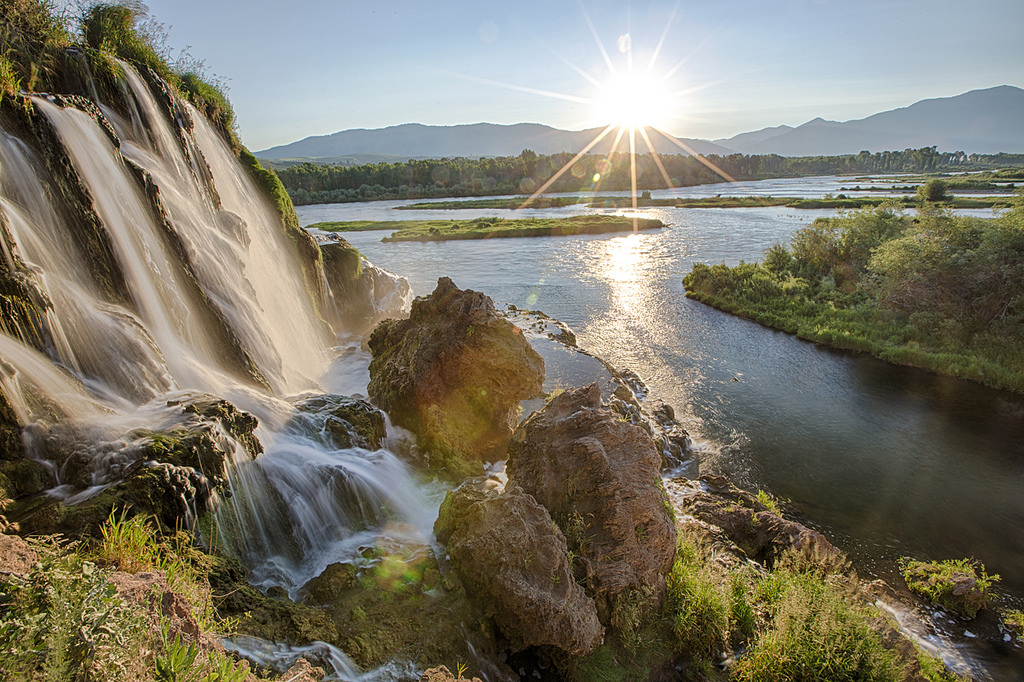 The South Fork of the Snake River in Idaho is one of the public lands that'll have great views of the total solar eclipse. Photo by Bob Wick, Bureau of Land Management
From Yaquina Head Outstanding Natural Area on the west coast to Great Smoky Mountains National Park in the east and Grand Teton, Homestead National Monument, and Clarks River National Wildlife Refuge in between, America's public lands offer some of the best viewing locations for the total solar eclipse. 
Whether you choose to watch the eclipse from an iconic national park or a lesser known (and just as beautiful) public land, these tips will help you have a safe and memorable experience while respecting your public lands:
It is NEVER safe to look at the sun during the eclipse. Except during the very short period of totality do not look directly at the sun without approved solar-viewing devices.
Be sure to get there early to beat the crowds and find a good parking spot. Only park in designated areas or lots. Please don't park along the sides of roads or in meadows. The total eclipse lasts only 1 minute-2 minutes and 41 seconds (depending upon your location), so do not be late!
Know the fire risks and respect fire restrictions. August is peak wildfire season for public lands, and a small spark can rapidly become a large fire. Be sure to properly put out campfires, and in many areas, vehicles are required to have a shovel and fire extinguisher or gallon of water.
Get your maps. Some public lands are remote areas along unmaintained roads and are often inter-mingled with private land, so know where you're going. Contact your local Bureau of Land Management, National Park Service, U.S. Fish and Wildlife Service, or Forest Service offices for camping and jurisdiction maps. Before you head out, make sure you are familiar with the area you are going to and ensure you have appropriate gear, equipment, and supplies.
Use designated spots for camping. While most reservable campgrounds are already booked, there are some locations that offer first come, first serve campsites. Remember: whether in a developed campground or at a dispersed site, you can usually camp in an area for up to 14 days. Learn more about camping guidelines.
Don't forget your eclipse glasses. You'll be able to buy eclipse glasses at some public land visitor centers, but to ensure you have them for viewing, it's best to purchase them before leaving home. Learn more about protecting your eyes during a solar eclipse.
Please use designated routes and trails. Going off road disturbs wildlife and habitat and in dry conditions can spark a fire.  
Tread lightly and leave no trace. Leave your site better than you found it.
Bring plenty of water. It can get hot during the summer, and water can be limited. Always carry at least one gallon of water for every person in your group.
Pack the sunscreen. Even though this event is about the sun's rays being blocked out, you'll probably spend some time waiting in the sun. Protect yourself.
Remember to pack it in, pack it out. Remove all trash (including your viewing glasses and any food scraps like apple cores).
Be patient and don't expect all services to be available. Many small towns within the path of the eclipse expect their infrastructure and community services to be stretched to the limit during the event. Be early and patient and expect traffic on rural roads. Don't expect cell-phone reception as it is already spotty in rural areas and may be overtaxed by the high number of users.
Check out some of the solar eclipse events across the country from the National Park Service, Bureau of Land Managementand U.S. Fish and Wildlife Service. 
Tips for photographing the solar eclipse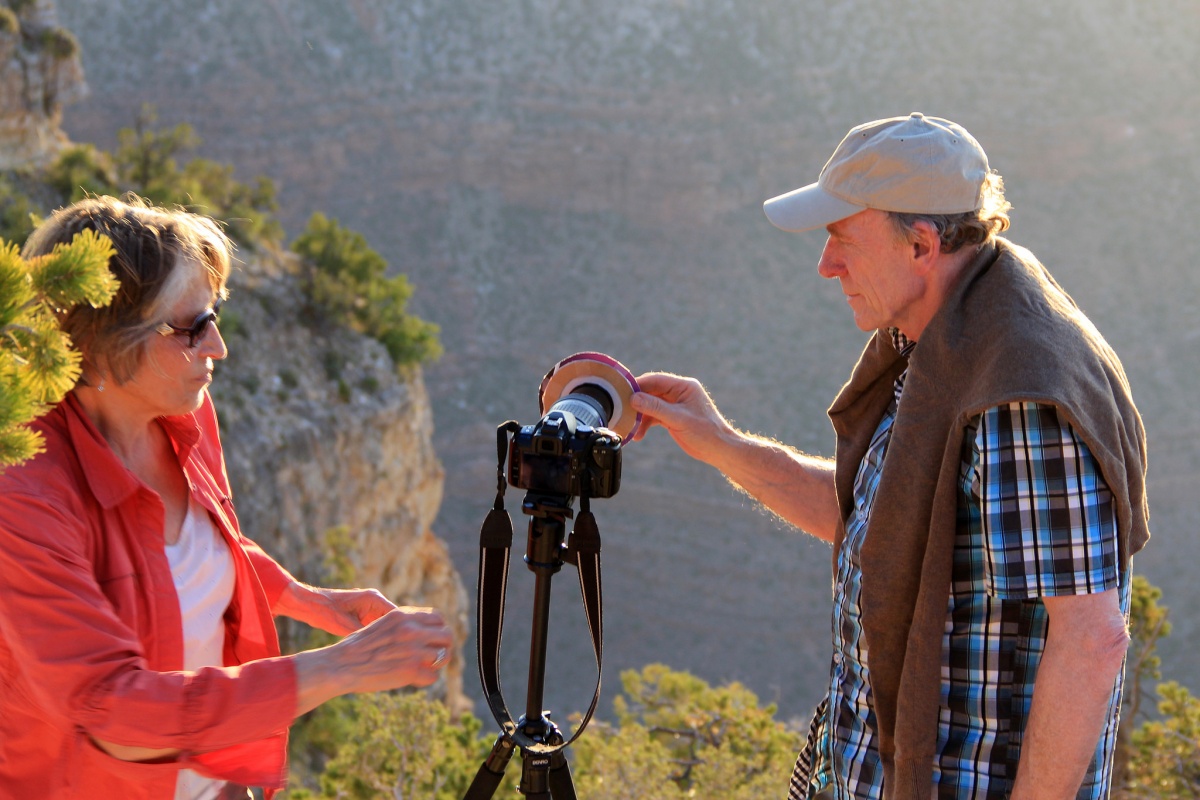 Visitors to the Grand Canyon prepare for the annular eclipse in 2012. Photo by Erin Whittaker, National Park Service
Just as the partial eclipse will damage your eyes, it will also damage your camera unless you place a special solar filter over the lens. These are widely available from photography stores. No filter is needed during totality, so be sure to practice removing your solar filter quickly before the day of totality so that you are not wasting precious time. The dark sky during totality makes it important to have your camera/smartphone on a tripod or some other support to prevent blur. 
With a wide angle lense, the sun will appear as a tiny dot in the image, so consider using a telephoto lens. Want to know how large the eclipse will appear? You can practice ahead of time by taking an image of the full sun as long as you have your solar filter on (and protective eyewear).
Make sure to turn off your flash as it won't improve your photos and will distract other eclipse viewers. Speaking of viewers, consider taking a video of the audience as the eclipse goes into totality -- they are guaranteed to applaud and gasp at the magical sight and will make for some memorable clips.
Unlike the fleeting few minutes of totality, the partial phases of the eclipse provide several hours for creatively composing photos. Take the time to to silhouette foreground subjects like trees, mountains, people or other objects against the skyline and crescent sun to lend the context of your location to the eclipse. 
Above all, plan your time during totality to be able to capture some images quickly so that you can spend part of this precious short time enjoying the eclipse itself.  
Check out more detailed information on camera settings and other aspects of eclipse photography.