Camp David: Solitude, Tranquility and a Place to Host Foreign Leaders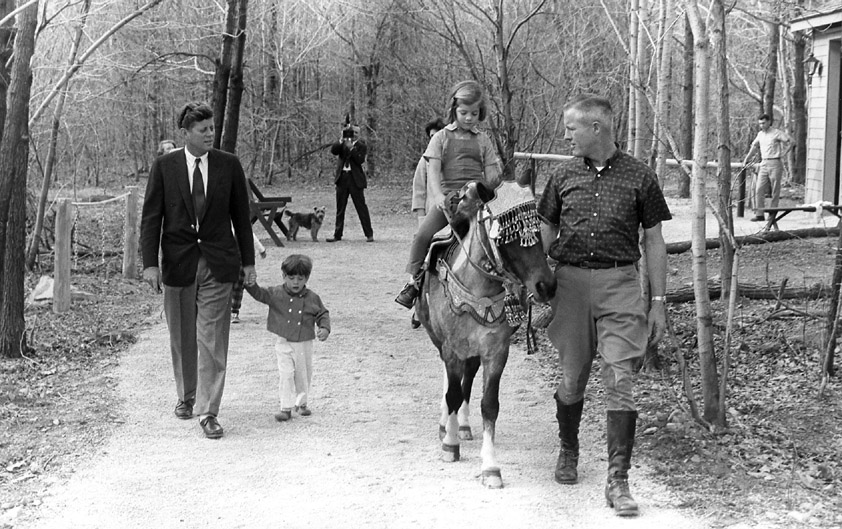 President John F. Kennedy and his son, John junior, walk with daughter Caroline as she rides her pony at Camp David in March 1963. (Kennedy Library)
Camp David
To every President since Franklin Roosevelt, Camp David has offered solitude, tranquility, and a place to host foreign leaders.
Camp David, known formally as the Naval Support Facility Thurmont, is the President's country residence. Located in Catoctin Mountain Park in Frederick County, Maryland, Camp David has offered Presidents an opportunity for solitude and tranquility, as well as an ideal place to host foreign leaders.
Adapted from the federal employee retreat Hi-Catoctin, President Franklin Roosevelt established the residence as USS Shangri La, modeling the new main lodge after the Roosevelt winter vacation home in Warm Springs, Georgia. President Eisenhower subsequently renamed the institution in honor of his grandson David.
Camp David has been used extensively to host foreign dignitaries. Prime Minister Winston Churchill of Great Britain attended the first such meeting in May of 1943; the summit held at the residence in 1978 for Egyptian President Anwar al-Sadat and Israeli Prime Minister Menachem Begin resulted in what are now known as the Camp David Accords.
Right: Mamie and Ike playing Scrabble at Camp David
Catoctin Mountain Park was originally submarginal land purchased by the government in 1936, to be developed into a recreational facility. The facility was to demonstrate how rough terrain and eroded soil could be turned into productive land again. The New Deal's Works Progress Administration, WPA, began the work in the newly created Catoctin Recreational Demonstration Area, joined by the Civilian Conservation Corps, CCC, in 1939. Camp Misty Mount was first used by the Maryland League for Crippled Children. After the first year, the League moved to a second camp in 1938, Camp Greentop, because Camp Misty Mount's terrain was difficult to negotiate in a wheelchair. A third camp, Camp Hi-Catoctin, was completed in the winter of 1938-1939 and was used for three years as a family camp for federal employees.
President Franklin D. Roosevelt was accustomed to seeking relief from hot Washington, DC summers and relaxing on weekends, aboard the presidential yacht "Potomac" or at Hyde Park, NY. In 1942, the U.S. Secret Service were very concerned about the President's continued use of the "Potomac." World War II had brought an attack on Pearl Harbor and German U-boats close in Atlantic waters. Presidential safety was a concern and Presidential health was also a concern. The muggy climate of Washington, D.C., was considered detrimental to his health, affecting his sinuses. A new retreat, a place to relax, within a 100 mile radius of Washington, DC and in the cool mountain air was sought. Several sites were considered, but Camp Hi-Catoctin in the Catoctin Recreational Demonstration Area was selected after the President's first visit on April 22, 1942. A camp was already built on the site and the estimated conversion cost was $18,650. It was also almost 10 degrees cooler than in Washington, DC. The camp for federal employee's families became the camp of one federal employee, the President of the United States. Roosevelt quickly renamed the camp to "Shangri-La" from James Hilton's 1933 novel, Lost Horizon.
Pages: 1 · 2