Virginia:
Photo ID required to vote (signed into law)
Restrictions on third party registration (signed into law)
Summary of Pending Restrictive Voting Legislation (see a detailed list of passed/pending 2013 bills)
Identification laws

Photo ID laws. At least 22 states have introduced legislation either requiring voters to show photo ID at the polls or making existing photo ID laws more restrictive.[3] Photo ID bills were already signed into law in Virginia and Arkansas this session.

Making voter registration harder. At least seven states have introduced bills to end Election Day or same-day voter registration, limit voter registration mobilization efforts, and reduce other registration opportunities.[5] Virginia has passed a law restricting voter registration drives.
Reducing early voting opportunities. At least seven states have introduced bills that limit existing opportunities to vote early in person.[6]
Making it harder to restore voting rights. At least two states have introduced legislation that would further restrict the right to vote to persons with criminal convictions.[7]
Pushback Against Restrictive Voting Legislation
On April 2, 2013, voters in Wisconsin overwhelmingly supported an advisory referendum to keep the state's highly-popular same-day registration law.
On March 21, 2013, the New Hampshire House voted to stop implementation of more restrictive voter ID requirements pending an impact study by state officials.
On March 5, 2013, the Florida House voted to reverse the early voting restrictions it adopted prior to the 2012 election.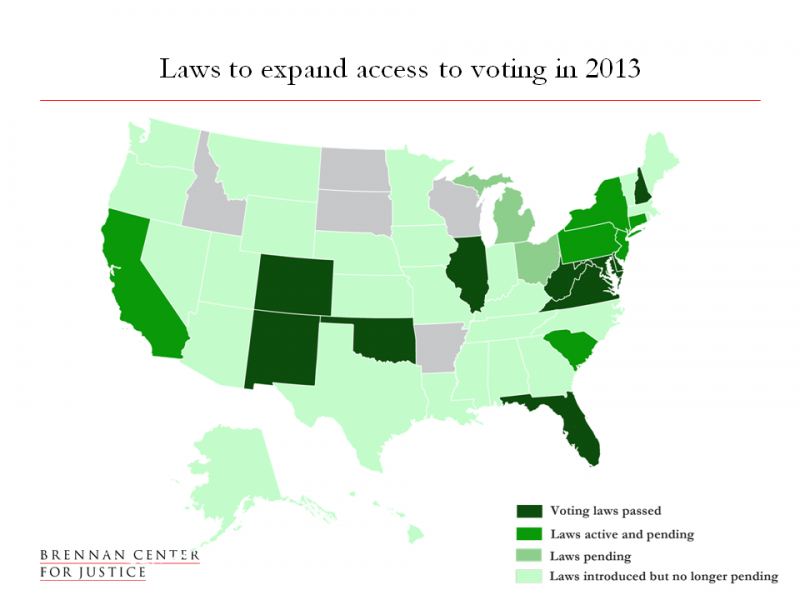 Note: In the cases where more than one piece of expansive legislation has been introduced in a state, we designate the state's passed, active, or pending status based on its most active piece of legislation.
Expansive Voting Laws Passed in 2013 
New Mexico:
Automation of voter registration at the DMV office (signed into law)