But the affluent and the well-educated are also victims of this new epidemic. Their search for effective treatment can be frustrating and dangerous, their relapses frequent.
Kevin Flattery seemed to be in an ideal position to beat his addiction to OxyContin, a widely abused opioid painkiller.
After graduating from the University of Virginia, in 2010, Flattery moved to Hollywood to pursue his passion for filmmaking. Opioid painkillers were cheap and easy to acquire on the street there. Kevin tried them and liked them, in part because they relieved some of the stress he was experiencing as he pursued his high-pressure career.
Two years later, he realized he had an addiction that was taking over his life. Kevin decided to move back to his parents' home in Mount Vernon, Virginia, an upper-middle-class suburb of Washington, DC, to find help.
He had family support, financial means and no shortage of local treatment providers. But he got conflicting signals from the counselors he saw.
He checked himself into Inova Fairfax Hospital for detox, and the experts there suggested he start taking buprenorphine, one of the FDA-approved drugs.
The medication worked well for Kevin — at first. But he veered off course a couple of times, stopping the daily medication and buying OxyContin to get high. Each time, he got himself back on buprenorphine within a few days.
Experts say that's a typical path for people who take such medicines. It often takes several tries before they stabilize and enter a period of sustained recovery.
But after a few months, Kevin wasn't sure he wanted to stay on the medication for the long term. He attended local 12-step programs where he was criticized for taking it. 
Kevin's father, Don Flattery, said his son was confronted with judgment and pressure about it. "He was made to feel that he was not in recovery, not serious about his sobriety, and substituting one addiction for another — all utterly false but damaging to him nonetheless."
Conflicted about how to proceed, Kevin stopped taking buprenorphine. Ten days later, he relapsed and suffered a fatal overdose, at age 26.
Buprenorphine and methadone are regulated as controlled substances by the US Drug Enforcement Administration (DEA). Like the opioid painkillers that cause the addictions they are meant to relieve, both are commonly sold on the street.
But their euphoric properties are limited, making them poor options for getting high. The illicit use of methadone can cause a fatal overdose, particularly when combined with other drugs. But buprenorphine is relatively safe, even when used illicitly.
Methadone can cost less than $5 per day; buprenorphine costs about $10 per day. Although medical research has yet to establish standard lengths of time for using either, many have maintained recovery for decades on methadone. Buprenorphine has been used successfully for years by some, and only months by others.
A 2000 federal law requires doctors to seek a special waiver from the DEA to prescribe buprenorphine and limits their number of patients to 30 in the first year and to 100 in subsequent years. HHS may loosen the patient limit this year.
Methadone can only be dispensed by about 1,400 licensed clinics nationwide, both stand-alone and in prisons or hospitals. Most of them are in major cities, meaning the medication is unavailable to most in rural areas. Patients must show up every day to receive their dose under the supervision of a licensed professional.
Vivitrol, an injectable form of naltrexone, is not a narcotic and therefore not regulated. Instead of fulfilling the addicted brain's perceived need for opioids, it blocks the effect of the drugs and thereby reduces cravings.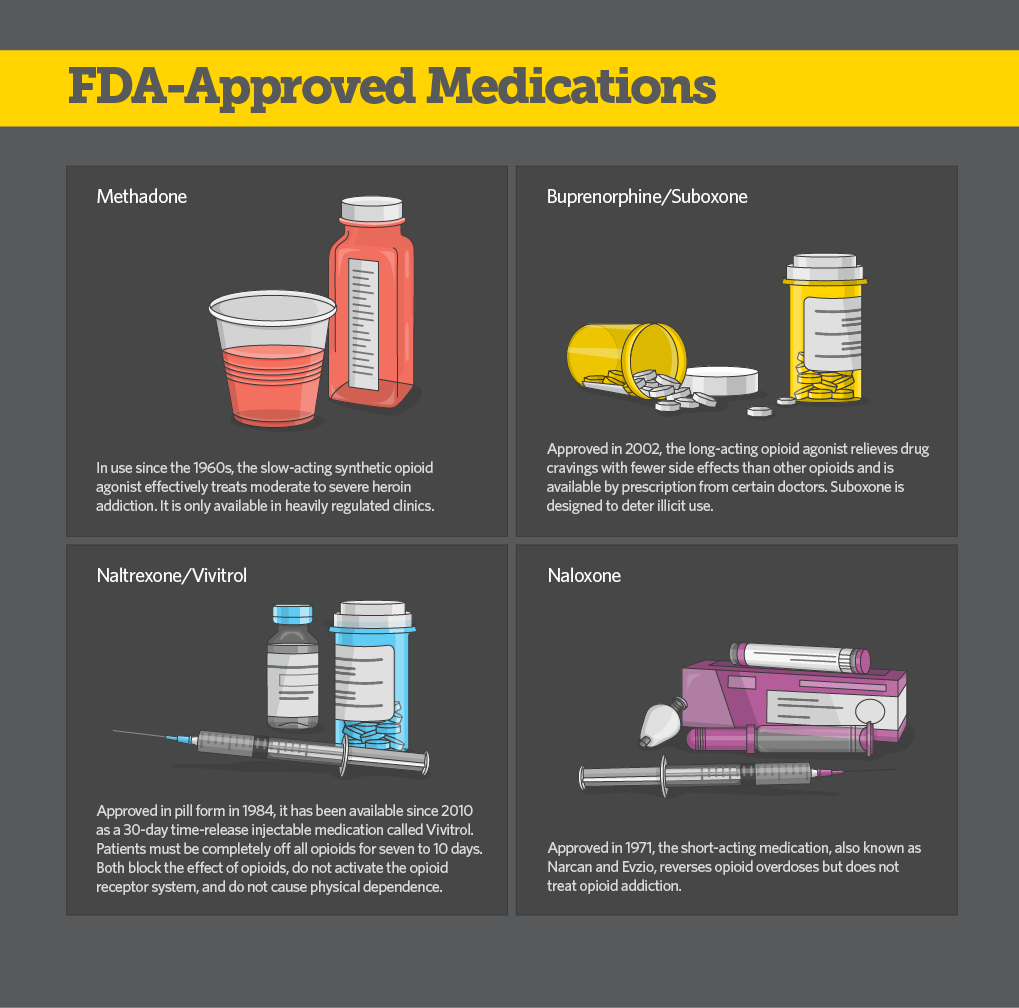 Any doctor can prescribe and administer Vivitrol. But it has a major drawback: To avoid severe and dangerous withdrawal symptoms, patients must completely detox from all opioids for at least seven days before receiving the first shot. For many, that means residential treatment, which can be costly. The drug itself is also expensive, at $1,000 per month.
Research on Vivitrol's long-term effectiveness is still to come, but its use is spreading, particularly in jails and prisons. Patients are also increasingly opting for Vivitrol because the shots are effective for 30 days, tempering the temptation of stopping daily doses to get high.
Addiction doctors agree that all three medications should be available to patients, because one may be more effective than another, depending in part on the person's age, length of time as an addict, home and work environment and underlying mental health issues. The American Medical Association, the American Academy of Addiction Psychiatry and the American Society of Addiction Medicine unequivocally support their use.
Patients should have a say in the kind of medication they want to receive, said Dr. David Gastfriend, scientific adviser to the Treatment Research Institute, in Philadelphia, which analyzes the effectiveness of addiction treatments. "They've heard about certain drugs from their friends or they've had past experiences and they often have ideas about what they want," he said. "Treatment works much better with patient buy-in."
Gastfriend and other addiction experts emphasize that medication should be accompanied by at least some counseling or group therapy. How long patients must stay on the medications remains unknown.
For advocates of medication-based treatment, recent policy changes are cause for optimism. The Affordable Care Act allows states to expand health insurance coverage to low-income adults and, for the first time, makes Medicaid and private insurance coverage of substance abuse treatment mandatory.
In the past, Medicaid only covered low-income pregnant women, children and disabled adults. Any drug or alcohol coverage was limited to those three populations. A severe drug or alcohol addiction, while debilitating and life-crushing, did not qualify on its own as a disability.
Under the ACA, 30 states plus DC have opted to expand Medicaid to low-income, able-bodied adults, giving millions of poor Americans coverage for addiction treatment. The health law also requires all state Medicaid programs and all insurance companies to cover the gamut of recommended treatments for addiction.
In addition, the federal Mental Health Parity and Addiction Equity Act, although not enforced everywhere, requires insurers to pay for proven addiction treatments at the same dollar level as medical and surgical treatment for purely physical diseases such as cancer.
"There has never been a better time to confront the addiction problem we have in this country," said Michael Botticelli, director of the US Office of National Drug Control Policy.
"We know so much more about addiction from years of scientific research. We know that substance use disorders are diseases of the brain, that they can be chronic and relapsing," Botticelli said. "But we also know that like other diseases, they can be prevented, treated and people can recover."
*The Pew Charitable Trusts is driven by the power of knowledge to solve today's most challenging problems. Pew applies a rigorous, analytical approach to improve public policy, inform the public and invigorate civic life.