House of Buckets: Adapting to the Drought Crisis in California and ... Cats Don't Count But Showering Together Does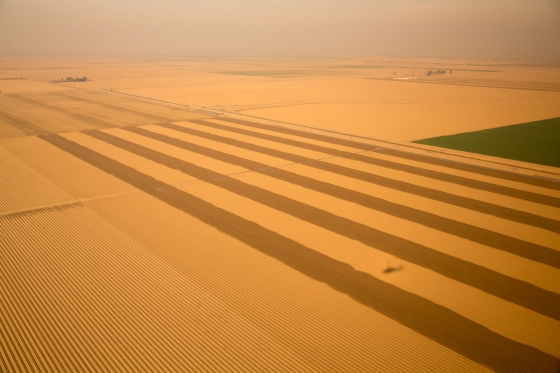 California has been in a state of  'exceptional drought.' The state's usually verdant Central Valley produces one-sixth of the US's crops. Credit: White House via Wikimedia Commons
The San Joaquin Valley extends down the interior of California, situated between two mountain ranges. My husband and I reside at the core of extreme drought conditions and notoriously high summer temperatures. This region is recognized for agriculture and farming, relying heavily on irrigation, which matters to you (wherever you live) because the impact of this water shortage hits you every time you purchase groceries. What every citizen of California does to conserve even a drop of water that can be allocated where it is needed most benefits everyone in the country. I'm certain you'll be pleased to know that many of us currently live in houses with buckets tucked under every faucet, and it's making a difference. It's given an entirely new meaning to having a 'bucket list, but I'll get back to that shortly.
Below average annual precipitation in the golden state is nothing new, but none match this drought in the record books for severity. It's disappointing that it has apparently taken four years for the message to conserve water to penetrate the reality of those residents who persisted in an attitude of denial, not to mention those unfortunate souls born with thick skulls and a stubborn streak as wide as their manicured lawns. The good news is that the majority have turned out to be team players who whole-heartedly fathom the essential changes and restrictions.  
The first time I paid attention to reports regarding the average daily water usage in California was a year and a half ago. The numbers left me astonished. Statistics vary widely according to sources and various factors such as when and where. Even comparisons between regions are staggering; some localities are 'guzzlers' while others are 'sippers'. The following figures reflect some highs and lows for a broad idea of water usage. The sippers average 103-147 gcpd (gallons per capita per day) while the guzzlers use 255-379 gcpd. Yes, you read that correctly; that's per person.
The general region we live in averages 159-239 gcpd, which reflects all those thirsty crops, orchards, and farm animals that support our economy. Those numbers sent me running to the file cabinet to check our utility bill for comparison, where I promptly became befuddled. Mike and I have always been exceptionally vigilant regarding resources, but I couldn't make sense of the low total on our bill. I decided to pick up the phone and request some clarification. As my call was forwarded from department to department, I took minor comfort in the fact that I wasn't the only person who was clueless. Eventually I spoke to someone who knew that the cryptic number on the bill represented cubic feet of water, not gallons. I also learned that there are 7.48 gallons per cubic foot, which accounted for why our total looked too good to be true.
The equation for our bill works like this: 1700 cubic feet (per our bill in January 2014) multiplied by 7.48 (gallons per cubic foot) equals 12,716 gallons. Divide that number by 60 (roughly the number of days in the billing cycle) which equals 212, and finally divide that sum by 2 (the number of humans in our household; apparently the cats don't count, but I'm not going to be the one to tell them) equals 106 gcpd. Not bad, but it still shocked me that we used that much water, especially during the winter. I just couldn't account for where it vanished. There was unquestionably room for improvement, and Mike and I embraced the challenge.
Landscaping accounts for the main consumption of water for the typical population. We purchased this house new 24 years ago. The contractors landscaped the front yard which included an automatic sprinkler system, but the back half of the lot was bare dirt waiting for imagination to take root. I credit Mike for thinking outside the box back then and I'm all the more appreciative today. He covered every square foot of the back yard with crushed rock, river rock, and mulch. A drip irrigation system delivers water directly to flower beds, shrubs, and trees. Traditional sprinklers lose some water to evaporation as droplets sail through the air and since the lots in our neighborhood slope to the street, excess water pours down the gutter.