Foiling an Elder Fraud Scam; Former FBI Director Webster Assists Investigation
Former FBI Director William Webster and his wife were the targets of a Jamaican lottery scam in 2014. They assisted in the FBI's investigation, which led to the arrest and conviction of Keniel Thomas, who was sentenced in February 2019 to nearly six years in prison.
The heavily accented caller who promised William Webster a grand sweepstakes prize of $72 million and a new Mercedes Benz had done most of his homework on his potential fraud target.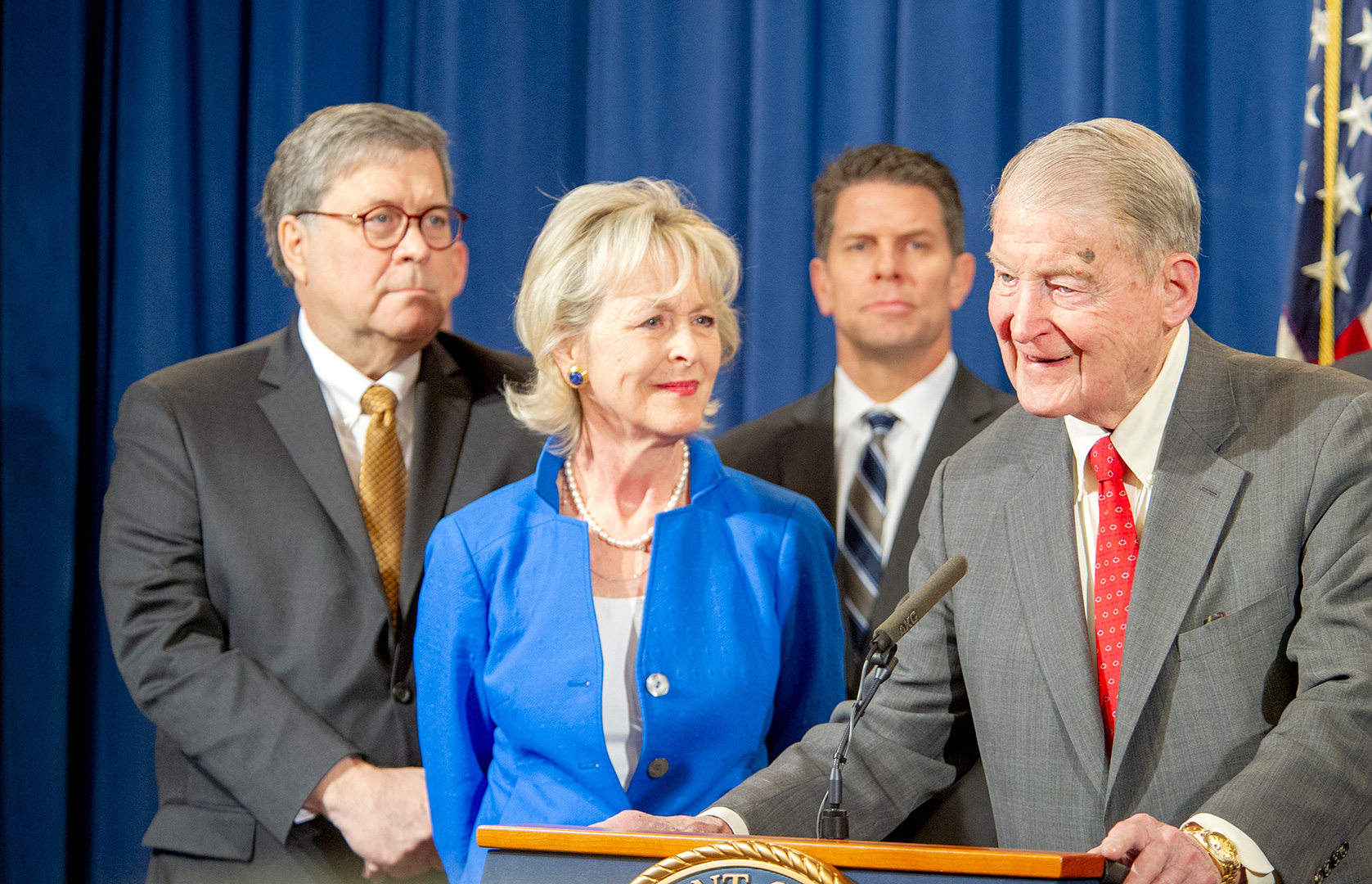 "I know that you was [sic] a judge, you was a lawyer, you was in the US Navy," the caller told his elderly mark. "I do your background check. You are a big man."
Former FBI Director William Webster—pictured with his wife, Lynda—speaks during elder fraud press conference at the Department of Justice. The Websters were targets of a fraud scheme in 2014 and helped the FBI capture the subject. Also appearing at the press conference were Attorney General William P. Barr (left) and FBI Deputy Director David Bowdich.
What the caller, Keniel Thomas, 29, of Jamaica, missed was possibly the most salient detail about his intended victim, who was 90 years old the time: William Webster had served as director of both the FBI and the CIA, and so had a pretty good radar for pernicious criminal schemes — in this case, a Jamaican lottery scam.
Thomas' persistent calls in 2014 to Webster and his wife, Lynda, followed the familiar arc of scams that target the elderly: The caller promises riches but requires some form of payment to move the process forward. The caller demands more and more, and then resorts to intimidation when the cooperation tapers off.
In the Websters' case, the former judge was told he had to pay $50,000 to get his prize. When the money wasn't forthcoming, the frequent calls escalated to scary threats, which led the couple to contact the FBI.
"I don't know how the conversation turned sour," said Webster, 95, director of the FBI for a decade beginning in 1978. "But it did. And at that point, he shifted gears. Instead of sweet talk, he began to threaten her."
In one expletive-filled recorded message left on the Websters' phone, Thomas threatened to kill them and burn down their house if he didn't get what he wanted. "You live at a very lonely place," he said. "And the moment you arrive, I'm gonna put a shot in your head."
Special agents from the FBI's Washington Field Office enlisted the Websters' help in nabbing the caller by recording their phone conversations to build a case and develop a clear picture of the scheme. The legwork ultimately led to Thomas' arrest in 2017 and his sentencing last month in federal court in Washington, D.C., to nearly six years in prison. It also revealed that Thomas and his relatives in Jamaica had successfully scammed others in the U.S. out of hundreds of thousands of dollars.
"This is not only the greatest generation that Bill's a part of. It's also the most trusting generation because they haven't been exposed to the Internet and all the bad that can come of that."
Lynda Webster, wife of former FBI Director William Webster
"I get complaints all the time," said Special Agent John Gardner, who was assigned to the case and has been investigating these types of crimes since 2011. He said the perpetrators frequently prey on older people because they tend to be more trusting, financially secure, and lonely. The fraudsters buy and trade "lead lists" on the Internet with senior citizens' names, phone numbers, and other personal information. Then they start calling, hoping to reach receptive unwary ears.
"They'll cold-call them. And a lot of them won't fall for it," Gardner said. "But all it takes is just one."
Lynda Webster, 63, said she and her husband frequently get suspicious calls, likely because of their demographic.
"This is not only the greatest generation that Bill's a part of," she said, referring to people who grew up during the Great Depression and fought during World War II. "It's also the most trusting generation because they haven't been exposed to the Internet and all the bad that can come of that."
Gardner said scammers can be ruthless, squeezing money from their victims and then, when the money runs out, getting their victims to serve as middlemen in illegal transactions. "When the victims are tapped out, they'll be told, 'Hey, I know you can't pay the fees anymore. But we have a sponsor that will help pay your fees. So, we're going to send you a check. We want you to cash it. And we want you to send the cash to another person.' So, now they're laundering money. They just think that that's part of the whole process of claiming their prize."
Gardner said sweepstakes or lottery winners do not have to pay fees or taxes to claim a prize. "If it looks too good to be true, it's probably a scam," he said.
William Webster said the entire experience — getting calls, working with the FBI, and seeing his tormentor in court last month — is a reminder that seniors and the trusted friends and family who look after them need to be vigilant.
"The average older person doesn't get caught in a bind where they think the screws are turning on them," Webster said. "They think something good is happening. They want to believe it. Whatever it was, they were able to be convinced that they were about to get something good to show they were still in the money."