Daphne Guinness at FIT's Museum
While there have been many exhibitions devoted to great fashion designers, only a few have focused on individual women of style. Yet certain singular women play a crucial role in fashion. Known as fashion or style icons, they are a special type of fashion insider, one who not only inspires designers and brings their clothes to life, but actually creates a look that affects the way other people dress and/or think about dressing.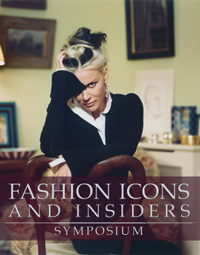 Daphne Guinness, one of today's most original fashion icons, is the subject of the exhibition Daphne Guinness at The Museum at FIT.  On view through January 7, 2012, the exhibition will feature approximately 100 garments and accessories from Guinness's personal collection, plus films, videos, and images of and by her.
From her platinum-and-black striped hair to her towering ten-inch heels, from her to-die-for couture collection to her amazing jewelry, Daphne Guinness completely embodies the rarified personal style of a fashion icon. "She is one of the — if not the — most stylish women living," says designer and film director Tom Ford. Her fans in the blogosphere describe her as "the ultimate fashion fantasy."
Shirt and jacket by

Guinness

Red suede shoes by Nina Ricci

Dress by Alexander McQueen



Daphne Guinness will reveal how she is  only a serious collector of couture but also a creative force in her own right and how she uses fashion to transform herself. As her friend art historian John Richardson, puts it: "She's the object of her own creativity. Her persona is her own masterpiece."
| | | |
| --- | --- | --- |
| | | |
| Coat by Valentino | Dress by Alaia | Coat by Lacroix |
Pages: 1 · 2