A Salon Health Hazard Alert: Hair Straightening Products and Formaldehyde
The federal Occupational Safety and Health Administration has issued a health hazard alert to salons nationwide about the risks that popular hair straightening products, including well-known Brazilian Blowout, pose to salon workers and customers. The agency warned that formaldehyde — a common ingredient in many of the treatments — can cause nose and lung irritation and increases the risk of cancer.
Following several state investigations and international actions to restrict or ban these products, the agency, a branch of the US Department of Labor, began a nationwide investigation of complaints by salon owners and workers of symptoms associated with the use of chemical straightening procedures, often described as keratin-based or 'Brazilian.'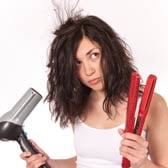 Environmental Working Group's own investigation of chemical hair straightening treatments, the largest published to date, turned up numerous complaints of hair loss, blisters, burning eyes, noses and throats, headaches and vomiting in women who had been given or had applied Brazilian-style straightening treatments.
EWG's investigation found that many top salons nationwide offer the treatments despite acknowledging concerns over possible health consequences. And some manufacturers have played a common cosmetics-industry name game by touting formulations that were claimed to be formaldehyde-free, claiming that they relied instead on methylene glycol as a miracle alternative.
EWG's researchers, as well as scientists at the American Chemistry Council and the Personal Care Products Council, have pointed out that methylene glycol is simply formaldehyde mixed with water. EWG believes that formaldehyde-based products should be taken off the market.
EWG's investigation includes:
Pages: 1 · 2