Stateline: Some Drug Users in Western US Seek Out Deadly Fentanyl. Here's Why.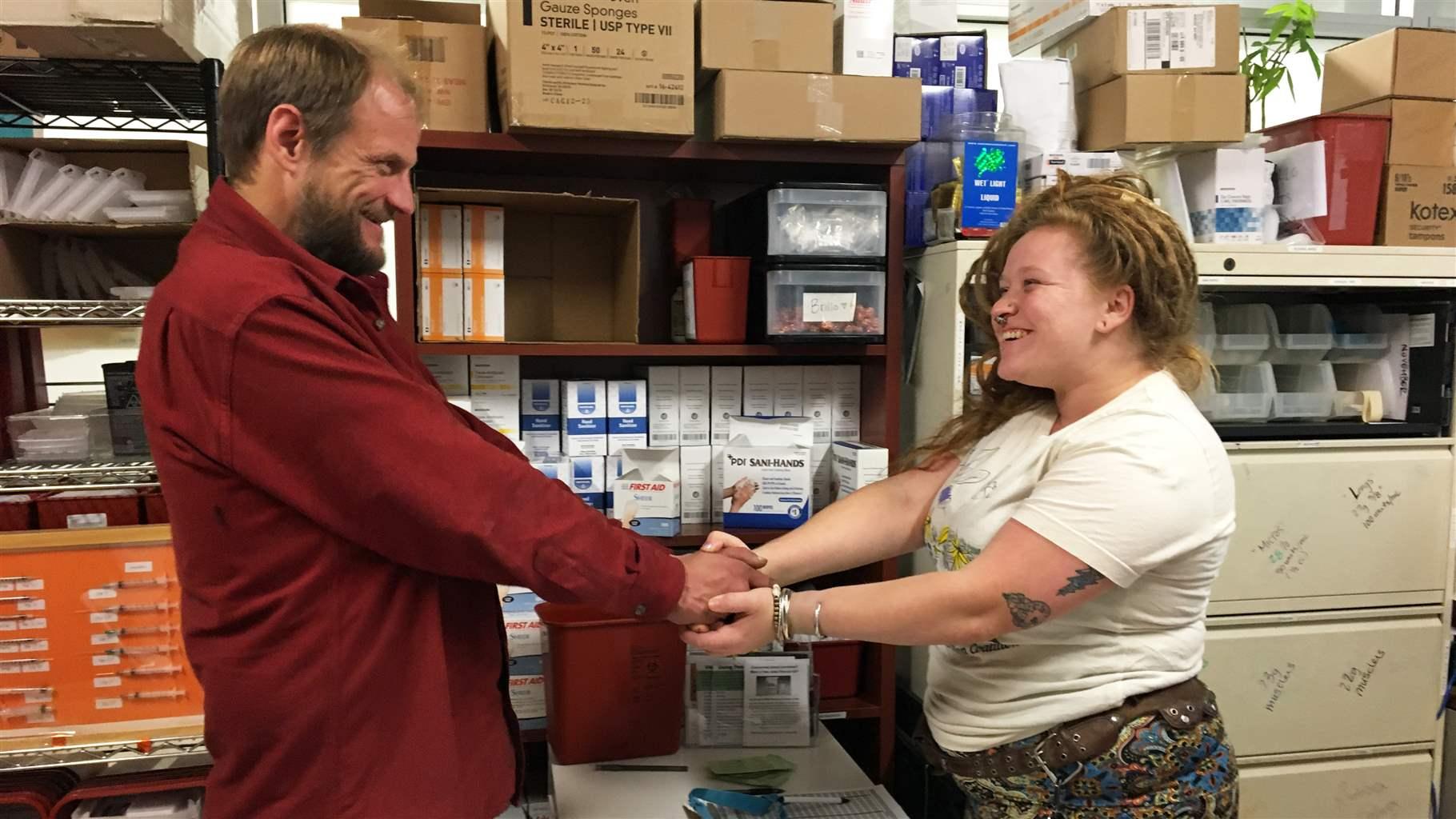 Amber Sheldon, right, greets a frequent client at the harm reduction program at Glide in San Francisco. The program offers clean syringes, drug test strips and other supplies to frequent drug users.  Sheldon and others in the city's harm reduction community help drug users learn how to protect themselves and others from fatal overdoses. The Pew Charitable Trusts
By: Christine Vestal, Stateline, Pew Trusts
Ever since the powerful synthetic opioid fentanyl started showing up in the US illicit drug supply eight years ago, experts have surmised that drug traffickers were using the inexpensive white powder to boost the potency of heroin, sometimes adding too much and inadvertently killing their customers.
In a series of interviews with heroin users in Rhode Island in 2017, Brown University researchers reported that users "described fentanyl as unpleasant, potentially deadly, and to be avoided." They concluded that demand for the deadly contaminant was low and that its presence in the drug supply was "generating user interest in effective risk mitigation strategies, including treatment."
But here in San Francisco's gritty Tenderloin district, where fentanyl was only rarely seen until last year, drug users tell a starkly different story. For many of them, fentanyl is a high-value drug that, if used carefully, can prevent dope sickness and deliver a strong high for a fraction of the price of heroin.
More than half of drug users here purposely seek fentanyl, despite its dangers, according to harm reduction workers who talk to hundreds of drug users every day. Fifty times stronger than heroin and 100 times stronger than morphine, the synthetic opioid was rarely detected in US illicit drug markets or in the bodies of fatal overdose victims just a decade ago. Now it has become the biggest killer in the nation's raging drug overdose epidemic.
To be sure, many other drug-using San Franciscans say they try to avoid the deadly white powder, and some reported overdosing after unwittingly consuming a wide variety of fentanyl-laced drugs, including methamphetamines, cocaine and counterfeit Xanax and Vicodin pills.
Still, an increasing number of drug users here say they are opting for fentanyl when it's available, a trend not reported elsewhere in the United States. And despite its powerful potency, fentanyl isn't killing nearly as many people here as it is on the East Coast and in Appalachia.
In San Francisco, the consumer preference for fentanyl and relatively low death rate likely stem in large part from the way the drug is marketed by dealers, said Phillip Coffin, director of substance use research at the city's public health department.
Fentanyl that is sold here is clearly labeled. It's rarely disguised as heroin, as it is on the East Coast and in Appalachia. As a result, users who buy fentanyl know what they're getting and, in most cases, take the necessary precautions, Coffin said. It's still a much more dangerous drug than heroin, which is typically sold as black tar in California and tends to be inconsistent in potency and quality, he added.
Another reason for San Francisco's relatively low death rate from fentanyl is the city's entrenched and well-funded harm reduction community, Coffin said. After the first fentanyl outbreak here in 2015, public health and harm reduction groups joined forces to sharply increase the amount of Narcan distributed to all drug users and intensify outreach programs.
Pages: 1 · 2