Stateline Examines What Happens to Developmentally Disabled as Parents Age, Die?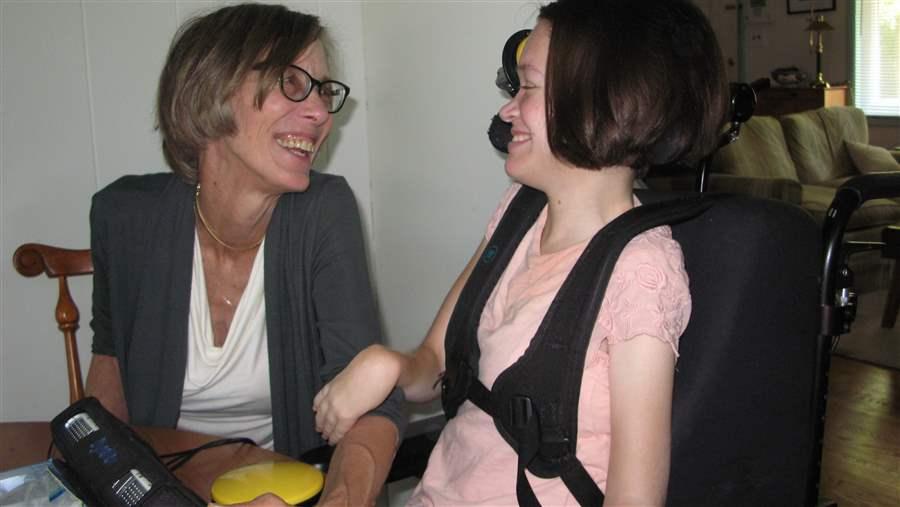 © The Pew Charitable Trusts
Beth and Caroline Munro laugh as they play on Caroline's communication device at the kitchen table in their home. Beth Munro is one of many caregivers over 60 in the US who are waiting for the person they care for to get more Medicaid services.
Ever since she was 4, when a caregiver force-fed her with a spoon, Caroline Munro has not let anyone feed her but her mother.
The 22-year-old has cerebral palsy and an intellectual disability. She doesn't speak and functions at a preschool level. Her mother, Beth Munro, feeds her with a fork or her hand.
As Beth ages — she'll be 68 in October — she wonders who will care for Caroline when she's no longer around. But she may never know. Caroline is on a Maryland waiting list for additional Medicaid services for the disabled. The list is thousands of names long, and as in many states, names often stay on it until a caregiver falls ill or dies.
About 860,000 people over 60 nationwide are in Beth's place, caring for someone with intellectual or developmental disabilities in their home. And many are waiting, sometimes for years, for state-provided Medicaid help for their disabled child, sister or brother, such as placement in a group home, day services, or transportation or employment programs. If they can't afford to pay for these services on their own, under the federal-state Medicaid system, their relative could end up in an institution.
As the number of older caregivers grows, and their need for help becomes more dire, a few states have passed laws to give older caregivers a chance to help decide where, and how, the person they care for will live. Tennessee passed a law in 2015 to ensure that anyone with an intellectual disability and a caregiver over 80 got the services they needed, and this year the state expanded the law to those with caretakers over 75. And in 2014, Connecticut passed a similar law that is helping about 120 people with a caregiver over 70.
But the waiting lists for needed services in these states and many others are still thousands of names long. In recent years, states such as Maryland, Virginia and Pennsylvania have put money into their budgets to try to chip away at the lists, and they get federal matching dollars to help pay for it. Some states are prioritizing people with urgent needs, while others are prioritizing students as they age out of school.
Yet advocates for people with disabilities, such as Nicole Jorwic, director of rights policy at The Arc, a national nonprofit, say there needs to be a federal fix.
"Something that pumps money into the system," Jorwic said. "And that's just not going to happen in the current climate in Congress."
In Maryland, Beth Munro realizes that unless she becomes seriously ill or dies, her daughter might not be placed in a group home.
"I've worked really hard at the issue over the years," Beth said, "and you get nowhere."
This generation of caregivers over 60 watched over decades as the US grew more understanding and inclusive of people with disabilities. A movement swept the country in the 1970s and '80s to deinstitutionalize people with disabilities. And for decades now, most people with disabilities who receive Medicaid help have been cared for at home by family members.
In 2013, spending for community- and home-based services surpassed spending for large institutions, such as mental hospitals and nursing homes, for the first time. By that time, 14 states no longer had any large state-run institutions for people with intellectual or developmental disabilities, and many others had only a few, according to University of Colorado research.
The move to deinstitutionalize care has provided care that is more personalized while also saving states money. Average costs for care in a state-run institution, in 2013, ranged from about $129,000 a year in Arizona to about $603,000 in New York, while the average state costs of community-based services nationally is $43,000, according to the University of Colorado.
What this has left, though, is fewer residential options, and lengthening waiting lists. About 198,000 people were waiting for home- or community-based services in the 34 states that reported data in 2013, according to University of Minnesota research. The longest waiting lists were in Ohio (41,500), Illinois (23,000) and Florida (22,400).
Some states don't keep waiting lists. In California, people with intellectual or developmental disabilities qualify for the services they need under a state-run health system. This means they should be getting the services they need.
But April Lopez, chairwoman of California's State Council on Developmental Disabilities, said that's not always the case there. Some services aren't available when you need them, she said. The state's reimbursement rate is so low, she said, it discourages doctors and health centers from providing services.
If states aren't able to provide services for everyone, they should focus on providing more support for family caregivers, such as high-quality case management and respite services, said Susan Parish, director of the Lurie Institute for Disability Policy at Brandeis University in Massachusetts.
Pages: 1 · 2