Race and Woman Suffrage, an Excerpt from One Room At a Time: How Women Entered Party Politics
One Room at a Time: How Women Entered Party Politics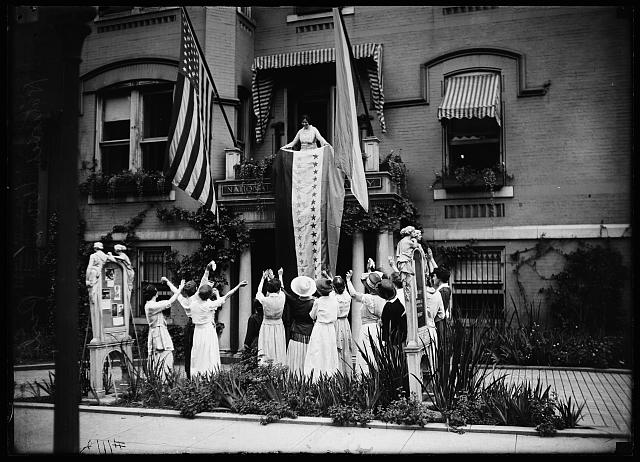 Alice Paul, National Woman's Party chair, unfurled the ratification banner at the NWP headquarters in Washington, D.C., following the Nineteenth Amendment's ratification.
Publisher: Rowman & Littlefield Publishers
by Jo Freeman (2000) 
The reluctance of men to allow women to participate in democratic decision-making stemmed from many sources, not all of which were consistent. One of the biggest deterrents was the importance of race in American politics, especially in the South. According to Southern historian Anne Firor Scott, "Because many of the early suffragists were abolitionists, the idea of woman's rights was anathema in the South." Ten years after Susan B. Anthony died in 1906, she and more contemporary colleagues were still being denounced for their "Southern-hating, negro-loving propensities." Southerners remained implacable foes of women suffrage in any form by any means. Were suffrage granted, one prominent Georgia Senator told Congress in 1887 as the suffrage bill came before the Senate for the first time, "the more ignorant and less refined portions of the female population... would rush to the polls... while the refined and educated... would remain at home." The antis fed the flames, insisting that women suffrage would undermine white supremacy and lead to racial equality. Thirty years later Southern Congressmen were still sounding the same theme in Congressional floor debates: Votes for women meant votes for Negro women.
Decades of restricting Negro suffrage did not still their fears: a grant of school suffrage to women in three Kentucky cities in 1894 was withdrawn in 1902 because "more colored than white women voted in ... the Spring election." Southern fears held back Northern support as well. In 1914, Senator William E. Borah, a Progressive Republican from Idaho, told a suffrage lobbyist that "I do not believe the suffragists realize what they are doing to the women of the South if they force upon them universal suffrage before they are ready for it. The race question is one of the most serious before the country today and the women must help solve it before they can take on greater responsibilities." To obtain the supermajorities necessary to amend the U.S. Constitution, the Suffrage Movement distanced itself from Southern efforts to disfranchise Negroes. Yet even when Southern women finally organized a major suffrage campaign, which excluded Negro women in order to prove their loyalty to Southern mores, their impact was minimal. To the end, the largest block of Congressional "no" votes for the Nineteenth Amendment were Southern, and only five border states — Texas, Missouri, Arkansas, Kentucky and Tennessee — ratified it at the time.
In 1983, African-American historian Rosalyn Terborg-Penn pointed out:
...white southern apprehensions of a viable black female electorate were not illusionary. "Colored women voter's leagues" were growing throughout the South, where the task of the leagues was to give black women seeking to qualify to vote instructions for countering white opposition. Leagues could be found in Alabama, Georgia, Tennessee, and Texas. These groups were feared also by white supremacists because the women sought to qualify black men as voters as well.
Whites widely believed that black women wanted the ballot more than white women in the south. Black women were expected to register and to vote in larger numbers than white women. If this happened, the ballot would soon be returned to black men. Black suffrage, it was believed, would also result in the return of the two-party system in the South because blacks would consistently vote Republican.
.......
The National Association of Colored Women (NACW) combined self culture and community improvement from its inception, both educating its members and creating a network of social service projects. Under the motto "Lifting as we climb," it had fifty thousand members in a thousand clubs in twenty-eight states by 1914. As was true for white women, the clubs trained black women in leadership and organization. While some colored women worked for suffrage in the Nineteenth Century, a few joined NAWSA, and some were paid speakers who appealed to black men in state referenda campaigns, most came late to suffrage. Ida B. Wells-Barnett "tried for many years to interest the Colored Women's Clubs in suffrage, but they were in some instances unwilling to take up the work, and in some cases they showed little or no interest." Massachusetts had an antisuffrage organization of colored women. Apathy was partly due to community resistance. Analyses of 19th Century black newspapers show that woman suffrage was seldom discussed, and usually opposed when it was. Black women canvassing for a black candidate in the 1914 Chicago city council races encountered fierce hostility from black men. Reynolds' regression analysis of the 1915 New Jersey suffrage referendum showed that native born whites of native born parents were the most likely to vote to enfranchise women, and black men were the least likely, with foreign-born whites and their children in between. To combat this, The Crisis ran "A Woman Suffrage Symposium" in September 1912. Once suffrage was won, black men and women took greater interest in what women could do with the ballot. In 1913, Wells-Barnett and Belle Squires were finally able to organize Chicago's Alpha Suffrage Club so Negro women "could help put a colored man in the city council." 
©2000 Jo Freeman