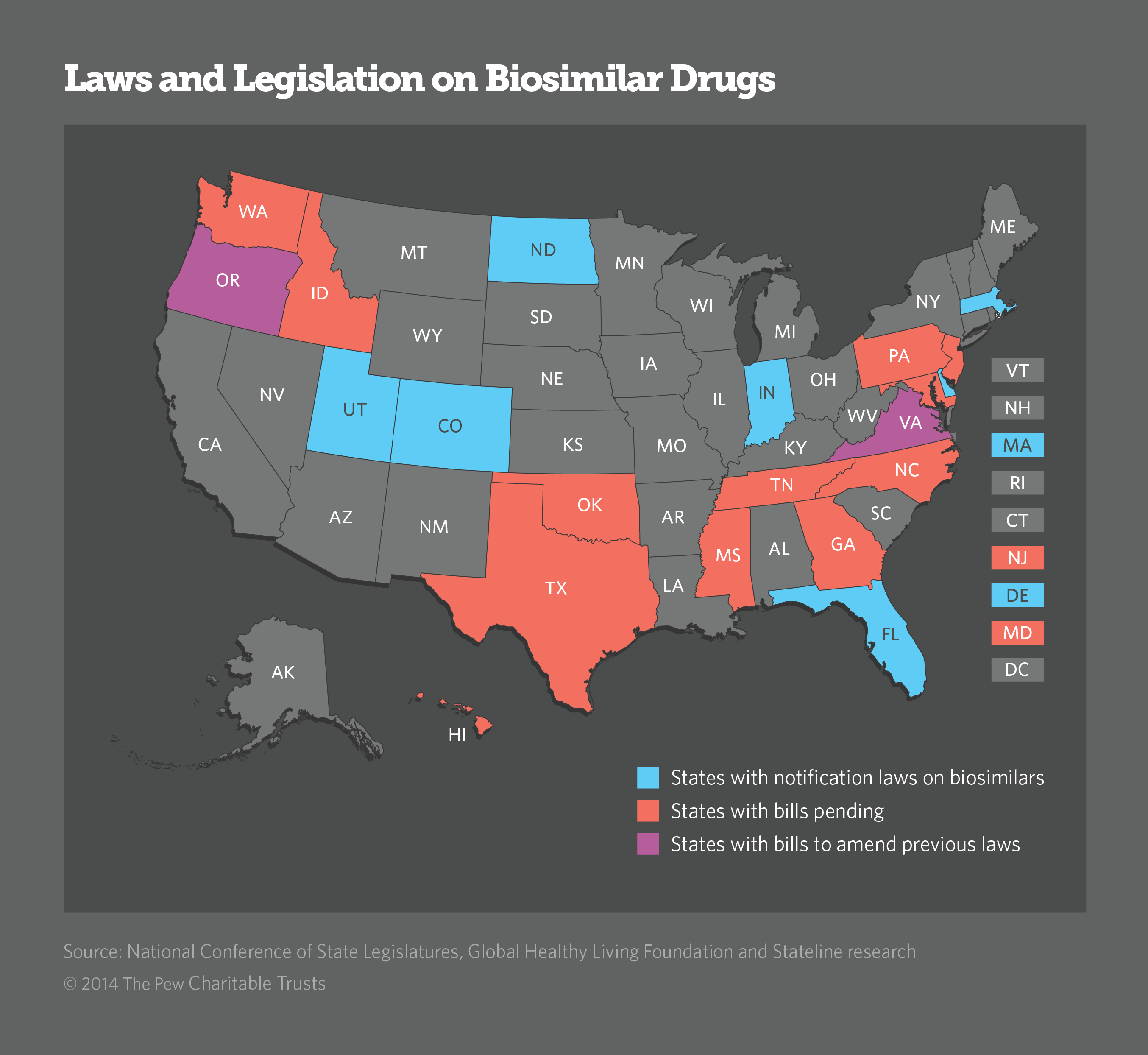 Huge Savings Anticipated
Biologics are among the most expensive drugs. As Wiles noted, some cost thousands of dollars a month. In 2010, spending on biologics in the US reached $67 billion, or nearly 30 percent of the overall prescription drug market, with a much steeper growth rate than conventional, drugs.
Their imitations will cost far less. In Europe, where biosimilars already are available, they have been priced 15 percent to 30 percent less than their name brand versions. (In the US, generic versions of conventional, non-biological drugs can be up to 90 percent cheaper than name-brand versions.)
The Congressional Budget Office estimates that over a 10-year period, the availability of biosimilars in the US drug market would reduce expenditures on biologics by about $25 billion and would save the federal government $5.9 billion, mostly in Medicare.
Express Scripts, the mail-order marketing giant, believes the savings will be much more. It projects savings of $250 billion in 10 years should only the 11 likeliest biosimilars hit the market.
The Federal Code of Regulations on food and drugs defines biologics as "any virus, therapeutic serum, toxin, antitoxin, or analogous product applicable to the prevention, treatment, or cure of diseases or injuries of man." 
First developed in the 1980s, they are more complicated than conventional medications because their molecules are far larger with more complex structures.
That relative simplicity of conventional, small molecule drugs means that generic versions are usually identical copies of the originals. That exactitude is not true of biosimilars. They may be very close to the originals, but scientists say it is not possible to create exact copies because of the complexity of the manufacturing process.
It is the differences between the name brands and the biosimilars that concerns patients. Small variations can make a difference in how patients respond, how well their symptoms are controlled and what side effects appear. If patients and their doctors do not realize that a substitution has been made, they may not understand changes in their reactions. That is why consumer health advocacy groups say notification laws are a must.
"We think it is absolutely essential that transparency be observed," said Stephen Marmaras, head of state and national advocacy for Global Healthy Living Foundation, a non-profit organization advocating on behalf of those with chronic illnesses.
In the first wave of legislative efforts to pass notification laws, makers of biosimilars and organizations representing pharmacists were able to turn aside many of the bills. But, this time around, biosimilar makers, who are often owned by biologic manufacturers, are getting behind compromise measures.
The Generic Pharmaceutical Association removed its blanket opposition to all notification legislation last fall.
Most of the measures proposed this year include provisions the association supports: that notification occur 
after
 the dispensing of the biosimilar and that where possible, notification be made through electronic medical records. Most of the new bills reduce the period of time that pharmacies must keep the record of substitution from five years to two.
The new bills also use the word 'communicate' rather than 'notify,' which is significant to biosimilar manufacturers who want to avoid any hint to the public that biosimilars are inferior products.
"The whole argument about 'notify' versus 'communicate' is to make sure you aren't in any way saying that biosimilars are substandard," said Michael Reilly, executive director of the Alliance for Safe Biologic Medicines.
Some pharmacist associations remain opposed to the notification laws, claiming it would create too much burden on pharmacists, an argument that didn't sway Democratic Sen. Cheri Jahn, sponsor of the notification bill that passed in Colorado.
"The pharmacists still said you're creating a lot more work for us, but that's really silly," Jahn said. "You might be talking about three notifications a week."
Copyright © 1996-2015 The Pew Charitable Trusts. 
All rights reserved.
Pages: 1 · 2