Beyond the Five Now Sanctioning Aid-In-Dying, More States Consider 'Death With Dignity' Laws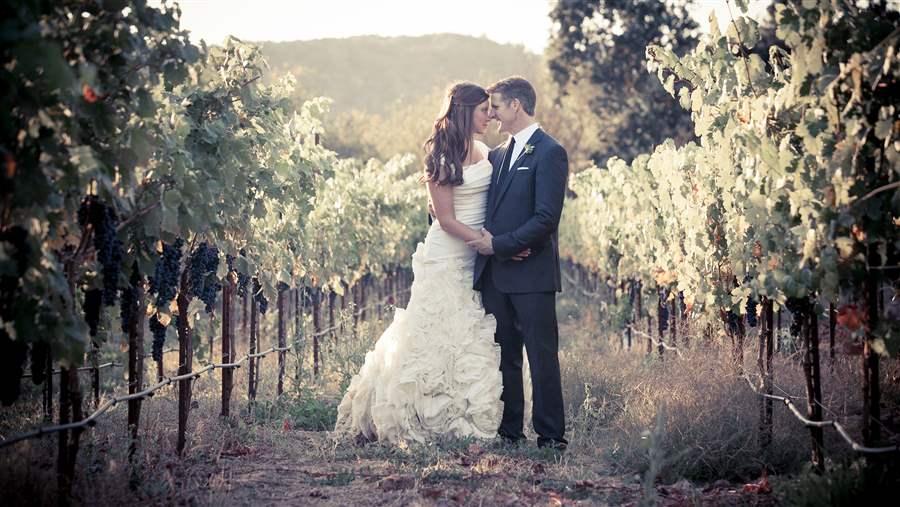 By Michael Ollove, Stateline
After he decided to hasten his death, Erwin Byrnes, who had advanced Parkinson's disease, set about planning all the details of the memorial service that would follow.
Brittany Maynard and husband Dan Diaz at their wedding. She had an incurable brain cancer and ingested a lethal medication to end her life, drawing attention to the aid-in-dying issue. PRNewsFoto /Compassion & Choices
He designated the nearby DoubleTree Hotel in Missoula, Montana, as the venue. He asked his old friend Gene to serve as master of ceremonies. He selected the entire menu — shrimp, sandwiches, beer and the hotel's oatmeal cookies with chocolate and walnuts that he relished. He selected music that would soothe his mourners, including the Frank Sinatra tune September Song and Louis Armstrong's classic It's a Wonderful World.
It came off just as the former high school principal had wished — just as his death had five days earlier on St. Patrick's Day last year. Byrnes, later described by his wife as "a good Irishman," had selected that day as most suitable for his departure from this world. On that morning, with his family surrounding him, he squeezed a valve on a tube leading to his body, sending a fatal barbiturate his physician had legally prescribed coursing into his bloodstream.
"It was a beautiful way to be able to end his life," said Erwin's wife of nearly 64 years. "In peace and in control and with dignity."
It happened only because of a Montana Supreme Court decision in 2009 that has put the state in company with four others that allow assisted suicide or, as proponents prefer, 'death with dignity' or 'medical aid-in-dying.' The states permit physicians to prescribe lethal medications for terminally ill patients, who then self-administer the medications.
Medical aid-in-dying has been approved through a variety of routes. Oregon (the first state where it became legal in 1997) and the state of Washington passed ballot measures. Vermont's legislature adopted a law. And in New Mexico, as in Montana, it was allowed by the courts. A New Mexico district court judge ruled in January that medically assisted suicide was legal. The state attorney general has appealed the case to the state Court of Appeals and a ruling is expected in a few months.
(Voters in Massachusetts narrowly voted down a medical aid-in-dying initiative in a 2012 referendum.)
Oregon reports  that since 1997, lethal medications were written for 1,327 patients of whom 859 died from using those prescriptions.  In Washington state from 2009 through 2013, lethal prescriptions were given to 547 patients, of whom 359 died from ingestion.