John Muir's A Thousand Mile Walk to the Gulf and the A Walk in the Wild Exhibit
"I Had long been looking from the wildwoods and gardens of the Northern States to those of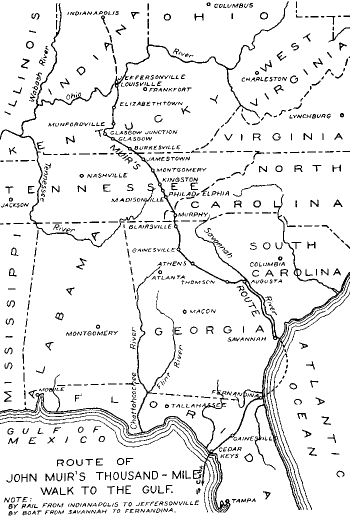 the warm South, and at last, all draw-backs overcome, I set forth [from Indianapolis] on the first day of September, 1867, joyful and free, on a thousand-mile walk to the Gulf of Mexico. [The trip to Jeffersonville, on the banks of the Ohio, was made by rail.] Crossing the Ohio at Louisville [September 2], I steered through the big city by compass without speaking a word to any one. Beyond the city I found a road running southward, and after passing a scatterment of suburban cabins and cottages I reached the green woods and spread out my pocket map to rough-hew a plan for my journey."
So begins the first chapter of John Muir's A Thousand Mile Walk to the Gulf.
A Walk in the Wild:  Continuing John Muir's Journey is a new exhibit at the Oakland Museum of Art, continuing until January 22, 2011. John Muir's experience in the Golden State led to his becoming a founding figure of the environmentalist movement. In this provocative new exhibition, OMCA celebrates the legendary naturalist's life, work, and legacy in California and beyond. Told through OMCA's collections of art, history, and natural science, as well as interactive digital technology and extensive loans ― Muir's journals, manuscripts, original drawings and plant collections ― the exhibition pays tribute to the "Father of the National Parks," whose legacy continues to inspire environmental stewardship in California today.
Through interactive, multisensory displays, A Walk in the Wild invites visitors to explore the vast natural environment of California and experience the sights, sounds, and smells that Muir encountered during his explorations. Through four main themes of wonder,  adventure, discovery, and action, the exhibition brings the radical preservationist's legacy to life, and connects it to contemporary activists of environmental study, conservation, and exploration working today in California. Through video and interactive technology, visitors will be able to meet these Modern Day Muirs and learn about their work and motivations.
The featured Modern Day Muirs include: Shelton Johnson, Yosemite National Park ranger; John Wehausen, wildlife biologist; Dune Lankard, Alaska environmental activist and fisherman; Rick Deutsch, Half Dome hiker and author; Jean Krejca, cave explorer;  Greg Stock, Yosemite National Park geologist; Steve Sillett, redwood canopy researcher;  Tori Seher, Yosemite National Park bear biologist and Alcatraz bird biologist; and Kemba Shakur, tree planter for Oakland Relief.
"This incredible exhibition explores the abundance of California's natural treasures through the lens of John Muir — the radical environmentalist who adopted this state as his own," says OMCA Executive Director Lori Fogarty. "This is a fitting story for OMCA to tell as it utilizes our multidisciplinary collection focus and reinforces our dedication to telling the many stories of California. With its interactive approach, A Walk in the Wild provides an exciting primer to what visitors can expect with the reopening of our transformed Gallery of California Natural Sciences in June 2012."
Simulation activities featured throughout the exhibition allow visitors to travel alongside Muir during his many explorations. From the ability to enter a giant hollow Sequoia tree in Yosemite, and see and smell the burnt embers of the forest burning around you to testing your skills at glacier and crevasse leaping in Alaska to following Muir's trek from Yosemite to Mount Whitney on Google Earth to the ability to take a simulated photograph of yourself  mountaineering, A Walk in the Wild offers many opportunities to learn about Muir's legacy and bring out the John Muir in you.
Pages: 1 · 2