Employed White Southerners Most Likely to Lose Coverage in Supreme Court Case
By Michael Ollove, Stateline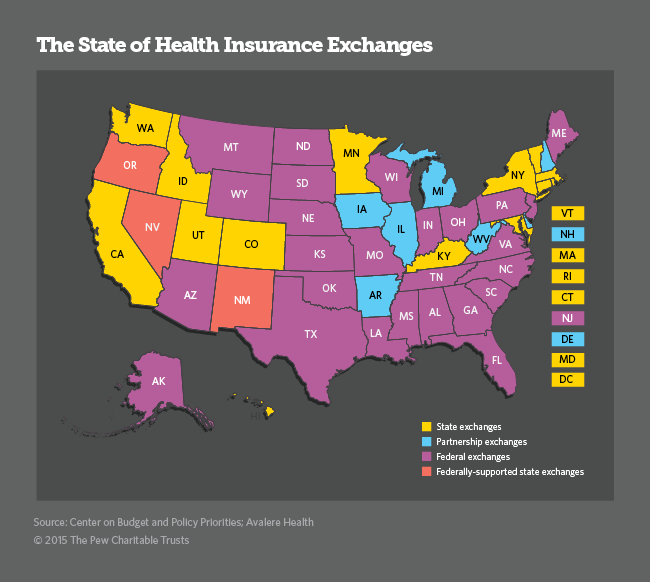 If the US Supreme Court strikes down tax credits for people buying health insurance on the federal exchange, about 8.2 million Americans in 34 states could lose their coverage under the Affordable Care Act. Most of the people likely to be affected are white, employed, and low- to middle-class. They also are concentrated in a single region of the country: the South.
Health insurance rates in those states are expected to rise by as much as 35 percent, which may make coverage unaffordable even for those who don't qualify for tax credits. Some believe that if the tax credits are disallowed by the Supreme Court, the underpinnings of President Barack Obama's signature health care law would collapse.
"It will be a horror movie if (the credits are struck down)," said Georges Benjamin, executive director of the American Public Health Association, which supported passage of the ACA.
At issue in King v. Burwell, scheduled for oral arguments next month, is whether people in states that use the federal government's exchange (Healthcare.gov) to buy insurance are eligible for federal subsidies in the form of tax credits to help them pay their premiums.
The case hinges on the fact that the ACA provision governing tax credits refers to people enrolled "through an Exchange established by the State," without mentioning the federal exchange. The ACA anticipated that all states would create their own state exchanges, but it allowed states that did not want to set up their own exchanges to use the federal one instead.
The lawsuit originated at a 2010 meeting of conservative lawyers convened by the American Enterprise Institute to explore "legal vulnerabilities" in the ACA. After the lawyers identified the tax credit as a promising point of attack, a related right-leaning group, the Competitive Enterprise Institute (CEI), found four Virginia plaintiffs to launch the lawsuits (King v. Burwell consolidated them). According to its website, CEI is coordinating and financing the legal effort.
Opponents — including the drafters of the original law, 21 states and the District of Columbia — say that whatever the exact language of the statute, Congress did not intend to make any distinction between federal and state exchanges when it came to tax credits. When questions were raised about the language, the IRS announced in 2011 it would issue the credits in states with federal exchanges, too.
In the 34 states where people use the federal exchange, an estimated 9.3 million people are expected to receive $36.1 billion in tax subsidies in 2016. A recent analysis by the Robert Wood Johnson Foundation and the Urban Institute estimated that if the Supreme Court blocked these subsidies, 8.2 million of these residents would not be able to find affordable health insurance in 2016.
"(A King win) disenfranchises millions of Americans from affordable health coverage, most of them working people," said Trish Riley, executive director of the National Academy for State Health Policy.
Pages: 1 · 2