Eight Presidents Who Shaped America's Public Lands: From the Roosevelts to Barack Obama
Ever wonder how our public lands system became what it is today? Consider the legacies of US eight presidents who made a considerable difference in American conservation.
Theodore Roosevelt — It's impossible to compile a list of presidents who impacted public lands without mentioning President Theodore Roosevelt. Often called a 'force of nature' due to his energetic personality, he helped lay the foundation to protect wilderness and wildlife that shaped American land and culture. As president, Roosevelt created five national parks, 18 national monuments, 51 bird sanctuaries, began the National Wildlife Refuge system and set aside more than 100 million acres for national forests. 
 A gorgeous natural scene from Theodore Roosevelt National Park in North Dakota. Photo by Brad Starry 
Abraham Lincoln — Despite being one of our greatest presidents, people do''t often think about President Abraham Lincoln when it comes to conservation. However, he changed the course of America's public lands when he signed a law setting aside the Mariposa Grove and Yosemite Valley as protected lands in 1864. Overshadowed by the Civil War, this news received little attention, but it set a significant precedent — places of scenic and natural importance should be protected for the enjoyment of all people.
The sun rising over Yosemite National Park in California. Photo by Ethan Killian 
Ulysses S. Grant — Few historians consider Ulysses S. Grant's presidency to be innovative or forward-thinking, but he accomplished two firsts in the area of conservation that live on today. In 1868, Grant set aside the Pribilof Islands in Alaska as a reserve for the northern fur seal. This was the earliest effort to use federally owned land to protect wildlife. In 1872, he signed a law establishing Yellowstone as our nation's first national park. Today, there are more than 400 sites in the national park system.
The first explorers of Yellowstone National Park in Wyoming described natural wonders others found difficult to believe. Photo by Kallem Phillips
Woodrow Wilson — In 1916, President Woodrow Wilson signed the Organic Act, creating the bureau responsible for protecting America's 35 already existing national parks and monuments and those yet to be established. Our national parks are called America's best idea, and this year, we're celebrating 100 years of the National Park Service. Wilson's administration also presided over the creation of several new national parks, including icons like Dinosaur National Monument and Rocky Mountain National Park.
Rocky Mountain National Park in Colorado is a place of stunning beauty. Photo by Steven Sawusch 
Franklin Delano Roosevelt — As a lifelong lover of nature and wildlife, President Franklin D. Roosevelt undertook many executive actions to protect and improve public lands. Not only did he create 11 national monuments, his New Deal program — the Civilian Conservation Corps — dramatically impacted existing park lands. Millions of people were put to work building infrastructure in national parks and forests, ultimately planting billions of trees, building roads and trails, and combating soil erosion.
Civilian Conservation Corps workers at Wind Cave National Park in South Dakota. Historic photo by the National Park Service
Jimmy Carter — The president from Georgia had a massive impact on public lands in Alaska. When President Jimmy Carter signed the Alaska National Interest Lands Conservation Act of 1980 into law, he set aside over 104 million acres of land, creating 10 national parks and preserves, two national monuments, nine national wildlife refuges, two national conservation areas and 25 wild and scenic rivers ensuring that large portions of wilderness remain undeveloped.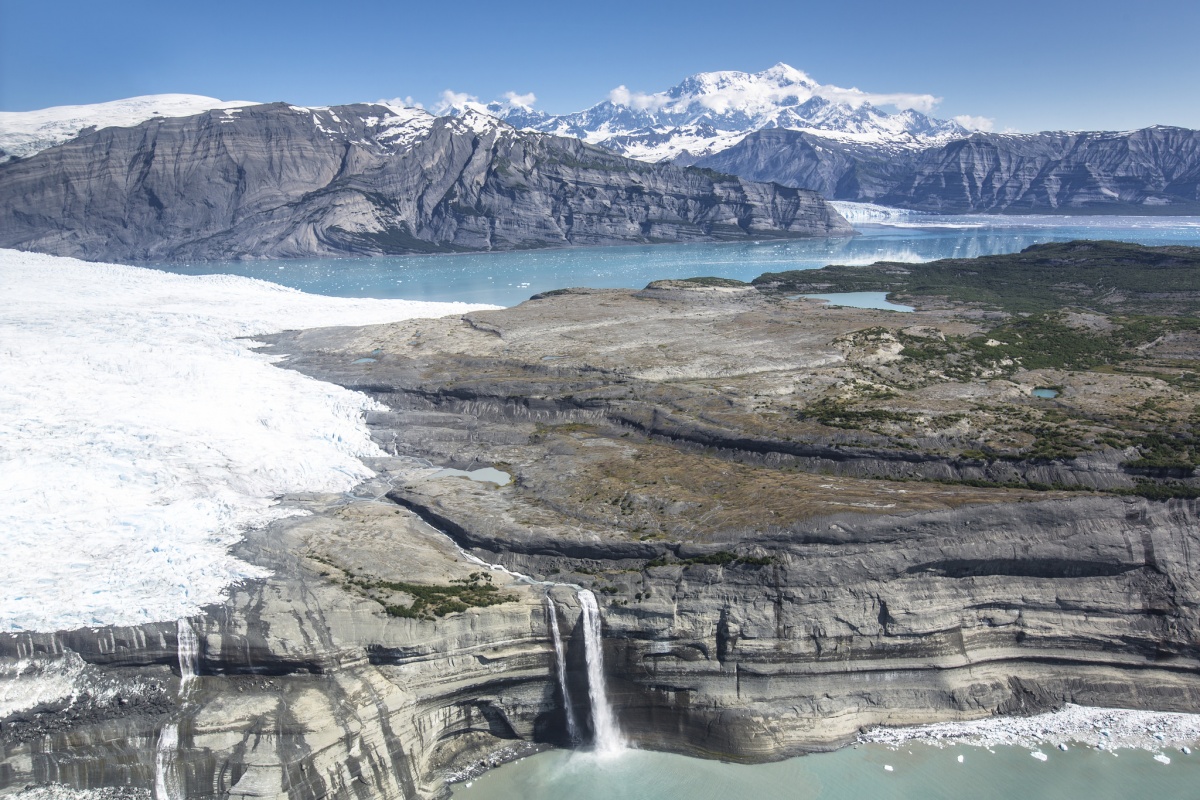 The wonders of Alaska are protected at many national parks. Aerial photo of Wrangell-St. Elias National Park & Preserve by Jacob Frank, National Park Service
Barack Obama — In the seven years since President Barack Obama took office, he's shown his commitment to conservation and preserving America's special places for future generations. Obama has established 22 national monuments and expanded others to set aside more than 265 million acres of land and water — that's more than any other president. This includes the expansion of the Pacific Remote Islands Marine National Monument into the largest marine monument in the world and most recently designating three new national monuments in the California Desert.
 Editor's Note: 
"The Pacific Remote Islands Marine National Monument falls within the Central Pacific Ocean, ranging from Wake Atoll in the northwest to Jarvis Island in the southeast. The seven atolls and islands included within the monument are farther from human population centers than any other U.S. area. They represent one of the last frontiers and havens for wildlife in the world, and comprise the most widespread collection of coral reef, seabird, and shorebird protected areas on the planet under a single nation's jurisdiction."
The moon rising over the desert at the newly established Mojave Trails National Monument. Photo by Bob Wick, Bureau of Land Management
Thomas Jefferson — President Thomas Jefferson's public lands legacy centers on the 1803 Louisiana Purchase. Doubling the size of the country, the United States acquired territory that formed 15 new states and included the future sites of many national parks, including Glacier National Park, Yellowstone National Park and Rocky Mountain National Park. Jefferson also sponsored the Lewis & Clark Expedition, which led to significant additions to the zoological and botanical knowledge of the continent.
Many Glacier Valley is just one of many amazing areas in Glacier National Park. Photo by Tim Rains, National Park Service
Follow @USInterior on Instagram for more great public lands photos and facts.