Assessing Russian Activities and Intentions in Recent US Elections: With illicit access, manipulation of voter data or disruptions to their availability may impact a voter's ability to vote on Election Day
June 21, 2017;  Testimony Before the Senate Intelligenct Committee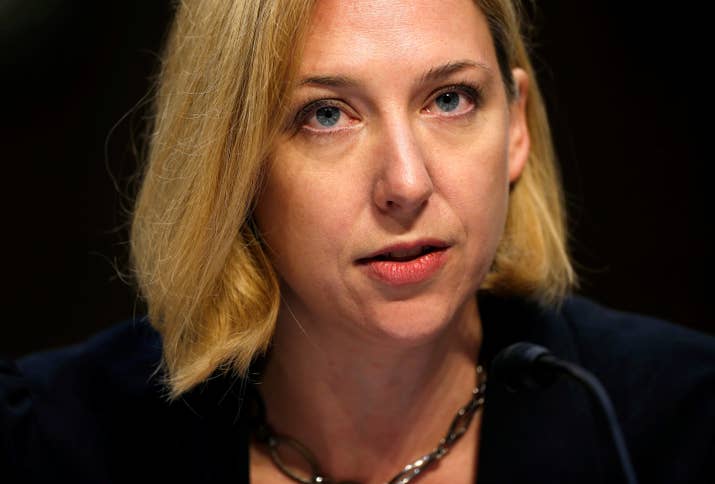 Jeanette Manfra, Acting Deputy Undersecretary for Cybersecurity,  National Protection and Programs,  Department of Homeland Security
Jeanette Manfra, DHS Acting Deputy Undersecretary, Buzzfeed photo, right
Chairman Burr, Vice Chairman Warner, members of this Committee, thank you for the invitation to be here and to represent the men and women that serve in the Department of Homeland Security's (DHS) Office of Intelligence and Analysis (I&A) and the National Protection and Programs Directorate (NPPD).
Given the vital role that elections play in a free and democratic society, on January 6, 2017, the Secretary of Homeland Security determined that election infrastructure should be designated as a critical infrastructure subsector. With the establishment of an Election Infrastructure subsector within the existing Government Facilities sector, DHS and its Federal partners have been formalizing the prioritization of cybersecurity assistance and protections for owners and operators of election infrastructure similar to those provided to a range of other critical infrastructure entities, such as financial institutions and electric utilities. Participation in the subsector is voluntary, and the establishment of a subsector does not create federal regulatory authority. Elections continue to be governed by state and local officials, but with additional prioritized effort by the Federal Government to provide voluntary security assistance.
As the Secretary noted to Congress last month, "we know that our Nation's cyber systems are under constant attack." Our testimony today will provide DHS's unclassified assessment of cyber operations directed against the US election infrastructure and political entities during the 2016 elections, but not the overall Russian influence campaign covered in the January 2017 declassified Intelligence Community (IC) Assessment. Our testimony will also outline DHS's efforts to help enhance the security of election infrastructure operated by state and local jurisdictions around the country
Throughout spring and early summer 2016, the U.S. IC warned that the Russian government was responsible for the compromises and leaks of emails from U.S. political figures and institutions. This activity was part of a decade-long campaign of cyber-enabled operations directed at the U.S. Government and its citizens. As awareness of these activities grew, DHS began in August 2016 to receive reports of cyber-enabled scanning and probing of electionrelated infrastructure in some states. Some of this activity appeared to originate from servers operated by a Russian company. In addition to these reports and other classified information obtained during the period, DHS also received an unclassified Federal Bureau of Investigation bulletin that described a July 2016 compromise of a State Board of Elections website. The bulletin identified specific tactics and indicators and asked recipients to check their systems for similar activity. It also provided mitigation recommendations for state and local governments. DHS and its partners shared this unclassified information — specifically information regarding targeting of voter registration systems — with state and local governments to further increase awareness of the threat.